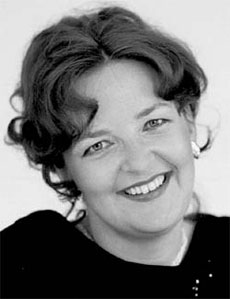 Biography
Was born in Chemnitz, Germane.
In 1989, upon completing her studies in voice and education at the Felix-Mendelssohn-Bartholdy conservatory in Leipzig, she was offered a contract as lyric soprano with the Municipal Theater in Magdeburg (Germany).

Her roles there included Mimi in La Boheme, the Countess in Le nozze di Figaro, Tatiana in Eugene Onegin, Marzelline in Fidelio, Antonia in Les Contes d'Hoffmann, Agathe in Der Freischutz, Elisabeth in Tannhauser, and Eva in Die Meistersinger von Nurnberg.
In 1993 she appeared in Leipzig in Gretry's Zemire et Azor, a special production to mark the 300th anniversary of the Leipzig Opera.
In 1995 she sang the role of Agnes in the German premiere of the opera Ein Traumspiel by the Swedish composer Ingwar Lindholm.

From 1997 to 1999 she was engaged at the German National Theater in Weimar. Here she was able to add more roles to her already varied repertoire, for example Marguerite in Gounod's Faust, a role which she also sang as a guest in several other theaters.

Since 1999 Ricarda Merbeth has belonged to the ensemble of the Vienna State Opera, where she made her debut as Marzelline in Fidelio. She has since been heard in Vienna as Freia in Das Rheingold, Gerhilde in Die Walkure, Third Norn and Gutrune in Goetterdammerung, Giulietta in Les Contes d'Hoffmann, Countess in Le nozze di Figaro, Donna Anna in Don Giovanni, Pamina in Die Zauberfloete and Chrysothemis in Elektra. In the new produktion of Der Ring des Nibelungen at the Richard Wagner Festival in Bayreuth (2000-2001), Ricarda Merbeth was seen as Freia, Gerhilde/Helmwige and Gutrune.

She sang the role of Elisabeth in the new produktion of Tannhauser, conducted by Christian Thielemann, which opened the Bayreuth Festival.
In June 2004 she sang the leading part of Daphne at the Vienna State Opera, conducted by Semyon Bychkov.

And in July 2004 she sang the part of Elisabeth in Tannhauser by the Bayreuther Festspiele conducted by Christian Thielemann.

Ricarda Merbeth has done numerous guest appearances in opera and concert under several well known conducters, such as Sinopoli, Metha, Viotti, Albrecht, Schneider, Knusel, Boder, Bernet, Young, Runnicles, Luisi, de Billy, Fischer, Weikert, Chaslin, Bychkov, Thielemann, Gergiev and Welser-Most.

Cities where she has appeared include Vienna, Milan, Berlin, Dresden, Leipzig, Bern, Frankfurt /am Main and Cologne.

Ricarda Merbeth has already recieved several prizes, including:
- Bayreuth stipendium given by the Richard-Wagner-Verband (1993)
- Prize of the Society for promotion of theater in the provincial capital Magdeburg (1995)
- The Eberhard-Waechter-Medal given by the Vienna State Opera for her interpretation of Irene in Wagners Rienzi (2001).
Print