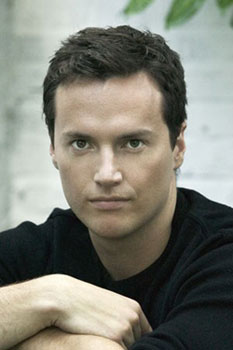 Biography
Was born in Sydney, Australia. He began learning the violin from the age of 5. While singing in St. Andrew's Cathedral choir he continued learning the violin, piano and organ. In 1999 following the suggestion of his piano teacher Andrew moved to Russia where he studied voice at the St. Petersburg State Rimsky Korsakov Conservatoire. In June 2005 Andrew graduated from the Conservatoire (professor Lev Morozov's class).

He is a regular soloist with the St. Petersburg Symphony Orchestra and has performed in most of the prestigious halls of Russia.
He sang Lensky in Tchaikovsky's Eugene Onegin at the Conservatoire Theatre in St Petersburg.

Andrew's debut in Australia was in January 2006, performing the role of Fenton in the Opera Australia production of Falstaff. In his repertoire at the Opera Australia are the following parts: Belmonte (Die Entfuhrung aus dem Serail), Don Ottavio (Don Giovanni), Novice (Billy Budd), Janek (The Makropulos Case), Tamino (Die Zauberfloete).

Other opera roles Andrew has performed include Leandre in Le Medecin Malgre Lui performed at the International Vocal Arts Institute in Tel Aviv and Dante in Francesca di Rimini performed at the St Petersburg Conservatoire, Russia.

In 2006, at the world premiere of Rodion Shchedrin's Boyarinya Morozova he sang the role of Avvakum (Big Hall of Moscow Conservatoire).
In 2008, he took part in a performance of George Palmer's Mass Benedictus Qui Venit in Sydney (world premiere).
Has taken part in Edinburgh Fringe Festival, Oxford Lieder Festival, West Cork Chamber Music Festival.

Chamber Music repertoire include: Bach St. John Passion, Benjamin Britten St. Nicholas, Bruckner Te Deum, Haydn Seven last words of Christ, Mozart Requiem, Coronation mass, Missa brevis in G, Rossini Petite Messe Solennelle, Schubert Mass in E flat, Penderecki Te Deum.

Andrew has won a number of competitions and prizes in Australia and abroad including the Marten Bequest Travelling Scholarship, the Sir Robert Askin Operatic Travelling Scholarship, and the Australian Opera Auditions Committee Joan Sutherland and Richard Bonynge Scholarship. He was a finalist in the 2004 Australian Singing Competition where he won the Nelly Apt Travelling Scholarship to attend the International Vocal Art's Institute in Tel Aviv, Israel. In April 2004 he won the Amber Nightingale singing competition in Kaliningrad, Russia. In November 2005, Andrew received 2nd prize in the Elena Obrastzova Singing competition in St. Petersburg where he also won the prize for best German Lieder. In March 2006, Andrew received 2nd prize in the Opera Foundation Australia singing competition and has successfully auditioned to begin a postgraduate diploma in Vocal studies at the Royal Academy of Music.

In 2006, he made his Bolshoi Theatre debut as Lensky (Eugene Onegin). In 2010, he also sang Tamino (Die Zauberfloete) and Alfred (Die Fledermaus).
Print