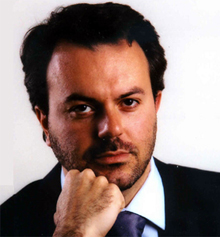 Biography
Ottavio Marino was born in 1974 in Palermo, at the age of 18 he finished his piano career with the best qualifications and the honour mention. He starts his conducting studies with Prof. Piero Bellugi, debuting at the age of 23; at the same time he studies composition and violin.

After specializing in conducting he worked as assistant conductor at the G. Verdi Theatre of Pisa; later he became assistant of Prof. Antonello Allemandi with whom he has collaborated in many opera performances such as: Simon Boccanegra, Traviata, Carmen, Tancredi, Turandot, Lucia di Lammermoor, Nabucco, Tosca, Don Carlo, Aida, etc in theatres as Teatro Real of Madrid, Paris National Opera, Koeln Opera.

He has been assistant of the "Putbus Festival" of Stoccarda and in 2000 conducted in the "Festspiele Mecklenburg Vorpommern"; the following year he conducted the Sixth Symphony of Beethoven with the Philharmonic Orchestra of Marseille in the Opera of Marseille, and immediately he was invited again for the 2002 season of Festival d'Art Lirique.

In 2001 he conducted at the G.Verdi Theatre in Pisa Don Carlo by Verdi and the New Year Concert in 2002. During 2002 he toured with a new production of Carmen by Bizet at G.Verdi Theatre in Pisa, Theatre of Giglio in Lucca, Theatre The Great Guard of Livorno, Social Theatre of Mantova, the Social Theatre of Rovigo. Later he was invited by the Theatre Massimo of Palermo to conduct the closing concert of the Sacred Music Week celebrated in the Duomo of Monreale (with soloists Sara Mingardo and Elisabetta Scano).

In 2003 he conducted a new production of "The Merry Widow" by Lehar, under the scenic direction of Simona Marchini in the Theatre Politeama of Prato, which has been recorded in DVD, and two concerts in Trieste and in Pordenone, with the Orchestra and Choir of the Theatre G. Verdi of Trieste.

He had been invited as teacher, together with Raina Kabaivanska, by the Academy Chigiana of Siena for the "Opera Course 2003". He conducted with great success in the Teatro delle Muse of Ancona a new production of the opera Tosca with the Philharmonic Orchestra of Marchigiana.

In August 2005 he has taken part in the Festival of Santander with the bass Roberto Sandiuzzi and the Orchestra of Turin. In October he has conducted the Orchestra of the City of Oviedo with soprano Ainoa Arteta and baritone Vladimir Chernov in the Teatro Principal of Oviedo and in the "Centro de las Artes Escenicas y de la Musica" of Salamanca.

In 2006 he made his debut at the "Seoul Arts Center" with Un ballo in maschera, Don Giovanni and Don Carlo, and conducted La Traviata of Verdi in France.
Print