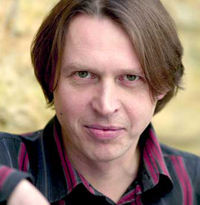 Biography
Konstantin Gorny, a native of Tambov, Russia, studied singing at the Tchaikovsky Conservatory in Moscow and made his professional debut in 1993 at the Bregenz Festival as еthe High Priest in Verdi's Nabucco. Later that year he was heard at the Bremer Theater as an Inquisitor in Prokofiev's The Fiery Angel (director Peter Konwitschny).

Since 1998 his international career has taken him to major international houses such as Semperoper Dresden, Konzerthaus Berlin, Teatro Lirico di Cagliari, Arena di Verona, opera houses in Amsterdam, Leipzig, Frankfurt, Genoa, Naples, Stuttgart, Turin, Palermo, Strasbourg, Bilbao, Budapest, Rome, Venice, to name a few.

In 2001 in Barcelona Mr. Gorny appeared alongside Edita Gruberova in a DVD production of I Puritani. In 2002 he performed alongside Mirella Freni in Tchaikovsky's The Maid of Orleans and the following year sang the role of Banquo in Verdi's Macbeth, conducted by Bruno Bartoletti and directed by David Pountney.

Another highlight of the artist's career include a performance in the Verdi 100 concert in Parma where he sang under the direction of Zubin Mehta alongside Placido Domingo, Jose Carreras, Leo Nucci and Ruggero Raimondi. In 2006 he recorded the Opus Arte DVD of Les Contes d'Hoffmann, directed by Giancarlo del Monaco, where he sang Lindorf, Coppelius, Miracle and Dappertutto.

Mr. Gorny has been a member of the ensemble of the Staatstheater Karlsruhe Baden since 1997. In 2006 he was awarded the prestigious title of 'Kammersaenger'.

He has appeared to great critical acclaim in the following roles: Mephistopheles (Faust), Zaccaria (Nabucco) Fiesco (Simone Boccanegra), Filipo II (Don Carlo) Raimondo (Lucia di Lammermoor), de Silva (Ernani), Kochubey (Mazeppa), Sparafucile (Rigoletto), Gremin (Eugene Onegin), Sarastro (Die Zauberfloete), Lindorf, Coppelius, Miracle, Dappertutto (Les Contes d'Hoffmann), Oroveso (Norma), Banquo (Macbeth), Padre Guardiano (La Forza del Destino) and the title roles of Attila, Don Quichotte, Don Giovanni and Boito's Mefistofele for which he was nominated in 2004 in Opernwelt Magazine as 'Best Singer of the Year'.

In the season 2009/2010 appeared as Sparafucile (Rigoletto) in Florence, performed the title role in Don Giovanni in Leipzig, Gremin (Eugene Onegin) in Stuttgart, the title role in Boito's Mefistofele in Montpellier, Colline (La Boheme) in Cagliari.
Print