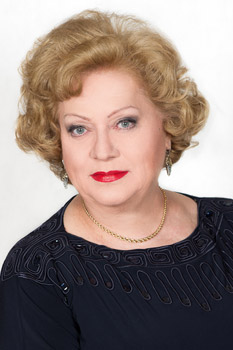 Biography
Having graduated fr om the Kishinev Institute of Arts (E. Zaplechnaya's class), she joined the Ashkhabad Opera Company wh ere she sang leading roles. From 1985 to 2016 she was a Bolshoi Theatre soloist.
Repertoire
Saburova (Rimsky-Korsakov's The Tsar's Bride)
Liza (The Queen of Spades)
Emma, Susanna (Mussorgsky's Khovanshchina)
Marya (Molchanov's Quiet Are the Dawns Here)
Tatiana, Larina, Nurse (Eugene Onegin)
Voyslava (Rimsky-Korsakov's Mlada)
Joan (Tchaikovsky's The Maid of Orleans)
Fevronia (Rimsky-Korsakov's The Legend of the Invisible City of Kitezh and of the Maid Fevronia)
Amelia (Un Ballo in Maschera)
Marguerite (Gounod's Faust)
Leonora (Il Trovatore)
Fata Morgana (Prokofiev's The Love for Three Oranges)
Eugenia (Paisiello's La Molinara)
Natasha (Dargomyzhsky's Rusalka)
Babulenka (The Gambler, world premiere production of first version of Prokofiev's opera)
Title role (Turandot)
Bobylikha (Rimsky-Korsakov's The Snow Maiden)
The golden cockerel's voice (Rimsky-Korsakov's The Golden Cockerel)
The Landlady (Prokofiev's The Fiery Angel)
Aksinya (Shostakovich's The Lady Macbeth of Mtsensk)
Nanny (Desyatnikov's The Children of Rosenthal)
Cio-Cio-San's aunt (Madama Butterfly)
Peronskaya (Prokofiev's War and Peace)
First Woman (Boris Godunov)
Marianne Leitmetzerin (Der Rosenkavalier)
Annina (La Traviata)
The Grandmother (Banevich's The Story of Kai and Gerda)
Innkeeper (Boris Godunov)
Woman convict (Katerina Izmailova)

In 1992, she took part in the Bolshoi Theatre and Teatro Carlo Felice (Genoa) co-production of Prince Igor singing Yaroslavna.
Discography
Serov's Judith — Judith, conductor Andrei Chistyakov, Harmonia mundi, 1991.
Rimsky-Korsakov's The Tsar's Bride — Saburova, conductor Andrei Chistyakov, Russian Season, 1993.
Tchaikovsky's Eugene Onegin — Larina, conductor Mark Ermler, TDK, 2005 (video).

Print