Awards
She won lst prize at the All-Russian Competition of Singers, Belgorod (1990); 3rd prize at the Mikhail Glinka All-Union Competition of Singers (1991); 3rd prize at the International Vincenzo Bellini Competition, Italy (1992); the Ada Sari prize at the International Stanislaw Moniuszko Competition of Singers, Warsaw (1992).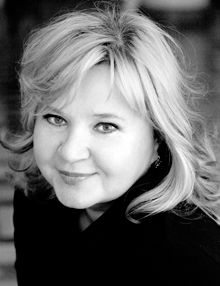 Biography
Born in Moscow. In 1988, she completed her studies at Moscow's Ippolitov-Ivanov Music College and, in 1993, she graduated from the Russian Gnesin Academy of Music (Natalia Shpiller's class). She twice did special courses in Italy under Carlo Bergonzi and Mietta Sighele.
She has worked with the Stanislavsky and Nemirovich-Danchenko Music Theatre and Moscow's Novaya Opera Theatre.
In 1994, she joined the Bolshoi Theatre as soloist. Now she appears at the Bolshoi as guest soloist.
Repertoire
Her Bolshoi Theatre roles include:
Leonora (Il Trovatore)
Emma (Mussorgsky's Khovanshchina)
Mimi, Musetta (La Boheme)
Violetta (La Traviata)
Marfa (Rimsky-Korsakov's The Tsar's Bride)
Xenia (Mussorgsky's Boris Godunov)
Title role (Iolanta)
Antonida (Glinka's A Life for the Tsar)
Kupava (Rimsky-Korsakov's The Snow Maiden)
The Countess, Suzanna (Le Nozze di Figaro)
Title role (Cilea's Adriana Lecouvreur)
Fevronia (Rimsky-Korsakov's The Legend of the Invisible City of Kitezh and of the Maiden Fevronia)
Elisabeth (Don Carlo)

Other roles in her repertoire are:
Desdemona (Otello)
Title role (Puccini's Manon Lescaut)
Ludmila, Gorislava (Glinka's Ruslan and Ludmila)
Title role (Aida)
Amelia (Un Ballo in Maschera)
Title role (Rakhmaninov's Francesca da Rimini)
Tatiana (Eugene Onegin)
Yaroslavna (Borodin's Prince Igor)
Liza (The Queen of Spades)
Fidelia (Puccini's Edgar)
Tours
She tours a lot abroad.
Since 1999, she has been guest soloist with the Metropolitan Opera (she made her 'Met' debut as Desdemona in Otello). At the Met, she has taken part in productions of Simon Boccanegra, Don Carlos, La Boheme, Dvorak's Rusalka, Mazeppa.
She has taken part in productions of Iolanta and Francesca da Rimini in Germany (Chemnitz and Dresden, director Peter Ustinov). In Berlin, she made her debut in Bronner's Jewish Requiem.
She has appeared at Paris National Opera, La Scala, Rome Opera and other theatres.
In 2001, she sang Muzetta (La Boheme) at the Opera Bastille; Tatiana (Eugene Onegin) at the Rome Opera and at the Metropolitan (conductor Vladimir Yurovsky); the soprano part in Stravinsky's Les Noces, at the Carnegie Hall, New York (with the San Francisco Symphony Orchestra).
In 2002, she sang the role of Yaroslavna in Borodin's Prince Igor, at the National Rhine Opera (Strasbourg).
She sang Desdemona at the Bonn Opera (conductor Roman Kofman, 2007) and at the Los Angeles Opera (conductor James Conlon, 2008).

Print