Awards
She has won prizes at All-Russian competitions; was twice a finalist (1994, 1996) at the Toulouse competition and winner of three special prizes at the Belvedere competition, in Vienna (1997).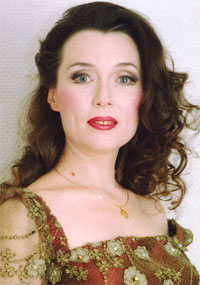 Biography
She began her musical education as a pianist. In 1995, she completed her studies at the Ural State Conservatoire (Prof. Nikolay Golyshev's class), in Yekaterinburg, and in 2000, her studies as junior member of teaching staff and probationer, at the same Conservatoire. She attended a finals' class under the direction of the famous French soprano, Mady Mesple, at the Paris Conservatoire.
From 1995-1997, she was a soloist with Yekaterinburg Opera.
From 1999-2004, she was a soloist with the Helikon-opera Company.

In 1997, she made her Bolshoi Theatre debut as Susanna in Le Nozze di Figaro. In 2003, she sang Ann in a new production of The Rake's Progress (for which performance she was awarded The Golden Mask National Theatre prize) and in 2005, Tanya (The Children of Rozenthal, world premiere); she also appeared as soloist with the Bolshoi Theatre Orchestra, conducted by Alexander Vedernikov, in a concert performance marking the Berlioz 200th anniversary.


Repertoire
At the Bolshoi Theatre:
Susanna (Le Nozze di Figaro)
Violetta (La Traviata)
Musetta (La Boheme)
Ann (The Rake's Progress)
Tanya (The Children of Rozenthal) — world premiere
Xenia (Boris Godunov)
Tatiana (Eunege Onegin)
Micaela (Carmen)

Her repertoire also includes:

Antonia (Les Contes D'Hoffmann)
Madame Cortese (Il Viaggio a Reims)
Marguerite (Faust)
Monica (Menotti's Medium)
Lucy (Menotti's The Telephone)
Donna Anna (Don Giovanni)
Pamina (Die Zauberfloete)
Mimi (La Boheme)
The Heroine (Poulenc's La Voix Humaine)
Title role (Iolanta)
Marfa (The Tsar's Bride)
Natasha (War and Peace)
Tsarevna (Rimsky-Korsakov's Kashchey the Immortal)
Catherine (Gretry's Pierre le Grand)
Soprano parts in Poulenc's Gloria and Stabat Mater

Tours
She tours a lot abroad: in France, England, Germany, Austria, Ireland, Finland, Sweden, Canada, USA and the Baltic States. She has appeared frequently at festivals: Dallhalla (Sweden), Santander, Salamanca (Spain), Ravenna (Italy), Montpellier (France) and others. She has appeared with the following, among other, conductors: Richard Bradshaw, Аlexander Vedernikov, Vladimir Fedoseyev, Valery Polyansky, Wolfgang Gonnenwein.

She has CD and DVD recordings.

Print