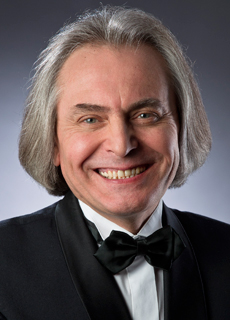 Biography
Born in in the town of Korkino, Chelyabinsk province, in the Urals. He studied at Chelyabinsk Music School (G. Gavrilov's class), and the Moscow Conservatoire (Pro­fessor Hugo Tits's class) where he was also a post-graduate (Professor Pyotr Skusnichenko's class).
He was a prizewinner at the Maria Callas Competition (Greece, 1989), and the Tchaikovsky Competition (Moscow, 1990).
In 1987, he joined Boris Pokrovsky's Moscow Chamber Music Theatre.

From 1990-1995, he was soloist with the Bolshoi Theatre, where he sung upwards of ten roles including such as
Silvio (Pagliacci)
Yeletsky (The Queen of Spades)
Georges Germont (La Traviata)
Figaro (Il barbiere di Siviglia)
Valentin (Faust)
Robert (Iolanta)

As Bolshoi Theatre guest soloist he performed Don Carlo (La Forza del Destino), Napoleon (Prokofiev's War and Peace), Ruprecht (The Fiery Angel), Tomsky (The Queen of Spades), the title role (Nabucco), the title role (Macbeth).

His international engagements include appearances in Hamburg, Dresden, Berlin, Stuttgart, Frankfurt, Essen, Cologne, Helsinki, Oslo, Amsterdam, Brussels, Liege, Bordeaux, Toulouse, Strasbourg, Marseilles, Paris, Turin, Montpellier, Toulon, Copenhagen, Palermo, Treiste, Tokyo and others.

From 1993-1999, he appeared as guest artist with the Kemnits Opera Company.
Since 1999 he has been a soloist with Dusseldorf Opera, where he sang Rigoletto, Scarpia (Tosca), Chorebe (Berlioz's La prise de Troie), Lindorf, Coppelius, Miracle, Dapertutto (Les contes d'Hoffmann), Macbeth, Escamillo (Carmen), Amonasro (Aida), Tonio (I Pagliacci), Amfortas (Parsifal), Gellner (La Wally), Iago (Otello), Renato (Un Ballo in Maschera), Georges Germont (La Traviata), Michele (Il Tabarro), Nabucco, Carlo Gerard (Andrea Chenier).

He participated in the Ludwigsburg Festival pro¬ductions under the direction of Wolfgang Gennenwein, where he has sung the lead baritone roles in Stiffelio, II trovatore, Nabucco, Ernani and Un ballo in maschera.

He has given concert appearances (over 100) in Japan.
He makes reg­ular concert appearances at Lucca Festival and has sung in La Traviata, La forza del destino, Tosca, Rigoletto, La Boheme, Tannhauser, lolanta and The Queen of Spades in Venice, Turin, Padua, Lucca and Rimini.

Together with La Scala soloists, Anna-Caterina Antonacci, Luigi Roni, Claudio Dezderi and Alberto Rinaldi, he appeared in Il barbiere di Siviglia in Germany, France, Italy Belgium and Holland.

In 2003, he sang Nabucco in Athens, Iago in Graz, Count di Luna in Copenhagen, Georges Germont in Oslo, Scarpia and Figaro in Trieste.
In 2004-06, — Scarpia in Bordeaux, Germont in Oslo and Marcello (La Boheme) in Luxembourg and Tel-Aviv, Rigoletto and Carlo Gerard in Graz.
In 2007, — Tomsky in Toulouse.
In 2008, — Rigoletto in Maxico, Scarpia in Budapest.
In 2009, — Nabucco in Graz, Scarpia in Wiesbaden, Tomsky in Tokyo, Rigoletto in New Jersey and Bonn, Ford and Onegin in Prague.
In 2010, — Scarpia in Limoges.
Print