Awards
Prize-winner at the All-Russian Bella voce Competition for Singers.
Prize-winner at the International Hans Gabor Belvedere Singing Competition (3rd prize, Vienna, 2007).
Prize-winner at the International Singing Competition of the Strasbourg Music Festival (Grand Prix and Audience Prize, 2008).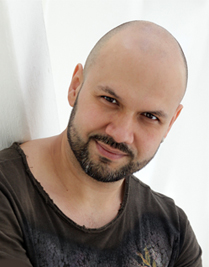 Biography
In 2001, he completed his studies at the Gnesin Russian Academy of Music (Professor Lisovsky's class), and in 2003, — his postgraduate studies at the academy.
Since 2003, he has been a soloist with the Novaya Opera Company.
Repertoire
His repertoire includes the following roles:
Lensky (Eugene Onegin)
Lykov (The Tsar's Bride)
Alfredo (La Traviata)
Tamino (Die Zauberflote)
Shuisky, the Pretender (Boris Godunov)
Bayan (Ruslan and Lyudmila)
Spirit, Sailor (Dido and Aeneas)
Nemorino (L'Elisir d'Amore)
Orff's Carmina Burana, Verdi's Requiem; and the vocal cycles: Liederkreis, Dichterliebe by Schumann, Farewell to St. Petersburg by Glinka

He also gives concert performances of chamber music and appears with the Orchestra of Folk Instruments, led by N.N. Nekrasov. He participated in the Opera per Barrias International Festival (Sevilla, Spain) and in the Evgeny Kolobov Festival Transfiguration (Yaroslavl, Russia). In 2007, he sang the tenor part in Rakhmaninov's Bells in Denmark (Danish National Symphony Orchestra, conductor Alexander Vedernikov). In 2008, he sang Lensky at the premiere performances of Eugene Onegin in Stuttgart State Theatre, performed Alfredo in Groningen (the Netherlands), and took part in a gala in memory of Luciano Pavarotti at the Lincoln Center in New-York.

He made his debut at the Bolshoi Theatre in 2005/06 season as Tamino (Die Zauberfloete).

Also in repertoire at the Bolshoi:

Pang (Turandot)
Nihilist (The Lady Macbeth of Mtsensk)
Lensky (Eugene Onegin)
Vladimir Igorevich (Prince Igor)
Lykov (The Tsar's Bride)
Print