Awards
2009 – The Best Stage Design Grand Prix for the model and sketches for the play Don Juan by J.-B. Moliere (Bachrushin Festival in Moscow).
2020 – The Elliot Norton Award (Boston, USA) for outstanding costume design for the play The Seagul by A. Chekhov.
2021 – The Mirror of the Stage Award as the Best Production Designer for stage design and costumes for the play Cyrano by E. Rostand.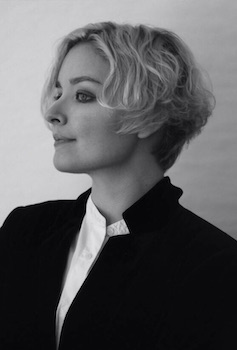 Biography
In 2009, she graduated from the Stage Design Department of the Moscow Art Theatre School (workshop of prof. Oleg Sheintsis).

Since 2018 she has been a head of the stage designers' course (together with A. Kondratiev) at the Scenography and Theatre Technology Department of the Moscow Art Theatre School.
Since 2021 she has been a head designer at the Mossovet Theatre.

Lectures on scenography and runs workshops at Northeastern University (College of Art, Media and Design) and Berklee College of Music (Boston, USA).

As a set and costume designer she has collaborated with such theaters as the Chekhov Moscow Art Theatre, Sovremennik Theatre n.a. O.F. Efremov, V. Mayakovsky Theatre, P.Fomenko Workshop Theatre, E.Vakhtangov Theatre, Theatre of Nations, Theatre of Satire, M.N. Ermolova Theatre, Russian Academic Youth Theatre, Mossovet Theatre, Novosibirsk Youth Theatre Globus, Krasnoyarsk State Opera and Ballet Theatre n.a. D.A. Khvorostovsky, Perm State Opera and Balet Theatre n.a. P.I. Tchaikovsky, St Petersburg State Youth Comedy Theatre, National Theatre of Târgu-Mureș (Romania), Hungarian National Theatre and Аrlekyn Players Theatre (Boston, USA), Boston Arts Center and others.

Worked with directors including Vladimir Mirzoev, Evgeny Marcelli, Viktor Ryzhakov, Alla Sigalova, Marina Brusnikina, Alexei Frandetti, Gleb Cherepanov, Timur Imamutdinov, Alexander Khukhlin, Nikita Kobelev, Kirill Vytoptov, Evgeny Malenchev and others.

Took part in festivals and exhibitions: Your Chance (Moscow, Theatre Centre Na Strastnom, 2008, 2009, 2010), Klin (Moscow, A. Bakhrushin Theatre Museum, 2008, 2009, 2010), Russian Shakespeare (Northern Stage, Newcastle, UK, 2010), Art Project. Diplomas (Art Lyceum of the Russian Academy of Arts, Moscow, 2010), Young Artists of Russia (Moscow, Central House of Artists, 2010), The Future of Russian Theatre (Yaroslavl, Volkov Theatre, 2010), Season Results (Moscow, 2009, 2011, 2012, 2013, 2014, 2016, 2017, 2018, 2019).

Some of her works are kept in the collection of the Bakhrushin Theatre Museum.



Print