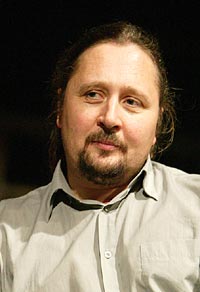 Biography
Born in Kishinev (Moldavia). In 1984, he completed his studies at the music theatre faculty of the Lunacharsky State Institute of Theatre Art (now Russian Academy of Theatre Art).
He joined the Rostov Theatre of Musical Comedy where he sang over 40 lead roles.
In 1989, in Moscow, he participated in the foundation of an opera studio which, a year later, was to become the Helicon-Opera Company. He is still a soloist with the Company.

In 2004, he made his Bolshoi Theatre debut in part of Sergei (The Lady Macbeth of Mtsensk), where he also sang Herman (The Queen of Spades) and Shuisky (Boris Godunov).

Collaborates with the Moscow's Novaya Opera theatre.
Repertoire
Lensky (Eugene Onegin)
Mozart (Rimsky-Korsakov's Mozart and Salieri)
Vaudemont (Iolanta)
Don Jose (Carmen)
Canio (Pagliacci)
Turiddu (Cavalleria Rusticana)
Eisenstein (Die Fledermaus)
Alfredo (La Traviata)
Radames (Aida)
Hoffmann (Les Contes d' Hoffmann)
Cavaradossi (Tosca)
Luigi (Il Tabarro)
Albert Gregor (The Makropoulos Case)
Huldbrand (Tchaikovsky's Undina)
Gennaro (Prokofiev's Maddalena)
Kashchey (Rimsky-Korsakov's Kashchey the Immortal)
Robert (Hindemith's Hin und Zuruck)
Rothschild (Fleishman's Rothschild's Violin)
Don Juan (Dargomyzhsky's The Stone Guest)
Fyodor, General Barclay-de-Tolly, Abbat (Prokofiev's War and Peace)
The Pretender, Shuisky (Boris Godunov)
Raymond (Tchaikovsky's The Maid of Orleans)
Vassili (Giordano's Siberia)

Tours
He has often toured with the Helicon-Opera Company in Great Britain, Germany, Spain, France, the USA, the Lebanon, Estonia.
Since 1998, he has made frequent appearances with the Canadian Opera Company (Toronto), where he has sung the following roles: Vaudemont (Iolanta), Herman (The Queen of Spades), Luigi (Il Tabarro), Turiddu (Cavalleria Rusticana), Shuisky (Boris Godunov); Zinovy Borisovich (Lady Macbeth of Mtsensk).
He took part in a production of War and Peace at the 1999 Spoleto Opera Festival; in 1999, he sang Cavaradossi (Tosca) at the State Theatre; Hessen; he appeared at the Concertgebau (Amsterdam) in a concert performance of Prokofiev's opera Maddalena (2001) and of Tchaikovsky's The Maid of Orleans (2003); he has sung Herman (The Queen of Spades) and the Pretender (Boris Godunov) for Mannheim's National Theatre. He has sung the roles of Herman, Jose, Cavaradossi, Radames and Lensky for different companies all over the world. As guest artist he has also appeared with Lithuanian National Opera, Estonia Theatre, Finnish National Opera, and with companies in Ljubljana, Nantes, Klagenfurt, Dublin, Wiesbaden, Bremen, Luzern.
In 2006, he sang Shuisky at Brussels' Theatre de la Monnaie (conductor Kazushi Ono, director Klaus Michael Gruber); in 2008, — Enzo (La Gioconda) in London; in 2009, — Iskra (Mazeppa) at the Opera Ireland.
He has worked with the following conductors: Yury Temirkanov, Mstislav Rostropovich, Richard Bradshaw, Eri Klas and the others.
Print