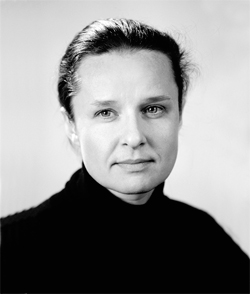 Biography
In 1997, she completed her studies at GITIS, The State Institute of the Performing Arts (Sergei Barkhin's class).
From 1996, she worked for the Bolshoi Theatre as assistant to the Theatre's chief scenographer, Sergei Barkhin.
In 2000, she was appointed head of the Bolshoi Theatre's designers' department.

She has designed for drama: Don Juan (The Russian Army Theatre, director V. Shamirov), The Refugees (as costume designer, scenographer – Sergei Barkhin, The Moscow Arts Theatre);
for opera: The Marriage of Figaro and Britten's Albert Herring (director – Alexander Titel, Moscow Musical Theatre named after Stanislavsky and Nemerovich-Danchenko), Eugene Onegin, Rigoletto, Weber's Der Freischutz (director – Dmitry Belov, Saratov Opera Company);
for musical Wrapper (director - Yelena Bogdanovich, Moscow)
for divertissement The Golden Age of Russian Imperial Ballet (Ballet Master - Yuri Burlaka, Chelyabinsk State Academic Opera and Ballet Theatre).

She has contributed to many Bolshoi Theatre productions: in 2000, she participated in the Theatre's revival of Eugene Onegin (1944 production) – director Boris Pokrovsky.
In the Theatre's 2002/03 season, together with Dmitry Belov, she was a member of the production team for The Snow Maiden.
In 2008/09 season, she took part in the production of the Grand Pas from the ballet Paquita.

Print