Awards
A diploma winner of the Voci Verdiani International Vocal Competition in Busseto, Italy.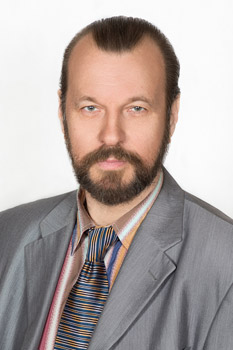 Biography
Born in Moscow. Having graduating from the Moscow State Conservatoire, where he studied with Professor Zurab Sotkilava, he was a probationer at La Scala with Giulietta Simionato. In 1986-2016 he was the Bolshoi Theatre Opera Company soloist.
Repertoire
His Bolshoi Theatre repertoire includes the following, among other, parts:
Figaro (Il Barbiere di Siviglia)
Albert (Werther)
Title role (Eugene Onegin)
Afron (Rimsky-Korsakov's The Golden Cockerel)
Silvio (Pagliacci)
Ferdinand (Prokofiev's Betrothal in a Monastery)
Lionel (Tchaikovsky's The Maid of Orleans)
Robert (Iolanta)
Yeletsky, Tomsky (The Queen of Spades)
Valentin (Faust)
Conte di Luna (Il Trovatore)
Renato (Un Ballo in Maschera)
Almaviva (Le Nozze di Figaro)
Lanciotto Malatesta (Rachmaninov's Francesca da Rimini)
Title role (Rigoletto)
Enrico (Lucia di Lammermoor)
Scarpia (Tosca)
Title role (Borodin's Prince Igor)
Amonasro (Aida)
Title role (Nabucco)
Grigory Gryaznoy (Rimsky-Korsakov's The Tsar's Bride)
Mr. Astley (Prokofiev's The Gambler)
Don Carlo (La Forza del Destino)
Shaklovity (Mussorgsky's Khovanshchina)
Title role (Macbeth)
Denisov (Prokofiev's War and Peace)
Ruprecht (Prokofiev's The Fiery Angel)
Tours
His international career began with a performance of Yeletsky at La Scala in 1990 (conductor Seiji Ozawa, director Andrei Konchalovsky).
Engagements followed at the Vienna State Opera (parts of Enrico and Belcore in L'elisir d'Amore), the Scottish Royal Opera (Conte di Luna, Don Carlo, Amonasro), Dublin Opera (the part of Renato), San Francisco Opera (the role of Yeletsky), Teatro Municipal, Santiago de Chile (parts of Yeletsky and Onegin), Teatro Liceo, Barcelona (Enrico, Don Carlo), Opera national de Lorraine, Nancy (Macbeth), and also in Malaga (parts of Conte di Luna, Renato), Valencia (roles of Onegin and Enrico), Palma de Mallorca (Renato, Conte di Luna, Mr. Ford in Falstaff).
In 2001, he sang Scarpia at the Hamburg State Opera. In 2002, he appeared at the Austin Lyric Opera, USA as Georges Germont (La Traviata). In 2003, he sang the title part in Nabucco at New Israel Opera.
He made concert appearances at Carnegie Hall and Lincoln Center (USA).

Since 2002, Vladimir Redkin has been teaching vocal at the Lomonosov Moscow State University (department of Fine and Performing Arts).
Discography
Vladimir Redkin has taken part in the following recordings:
J. S. Bach's Cantata BWV 201 Geschwinde, ihr wirbelnden Winde/The Contest Between Phoebus and Pan, conductor Vladimir Ziva, 1987.
Rimsky-Korsakov's The Golden Cockerel, conductor Evgeny Svetlanov, 1988.
Tchaikovsky's Iolanta, conductor Vladimir Delman, Bmg Ricordi, 1994.
Prokofiev's Betrothal in a Monastery, conductor Alexander Lazarev, 1998.
Tchaikovsky's The Maid of Orleans, conductor Alexander Lazarev, NVC arts (video).
Tchaikovsky's Eugene Onegin, conductor Mark Ermler, TDK, 2000 (video).

Print