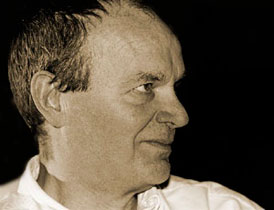 Biography
Nick Ormerod studied law at Cambridge University and trained in theatre design at Wimbledon School of Art.
In 1981 together with Declan Donnellan, he co-founded Cheek by Jowl Theatre Company and since then they are its joint Artistic Directors.

He designed all but one of Cheek by Jowl's productions as well as the Russian productions of Boris Godunov, Twelfth Night, Three Sisters, The Tempest and Measure for measure.

For the National Theatre: Fuenteovejuna, Peer Gynt, Sweeney Todd, The Mandate, and both parts of Angels in America.
For the Royal Shakespeare Company: The School for Scandal, King Lear and Great Expectations, which he also co-adapted.

Other work includes:
Shakespeare in Love (Noel Coward Theatre), The Rise and Fall of the City of Mahagonny (English National Opera), Martin Guerre (Prince Edward Theatre), Hayfever (Savoy Theatre), Antigone (The Old Vic), Falstaff (Salzburg Festival). He co-directed the film Bel Ami with Declan Donnellan.
Print