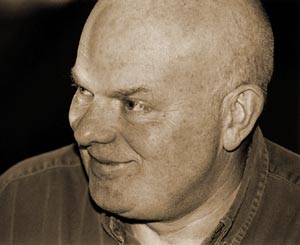 Biography
Born in England of Irish parents, Declan Donnellan founded Cheek by Jowl together with his partner Nick Ormerod in 1981. Since then, their work has been invited to perform across five continents. Cheek by Jowl currently produces work in three languages: English, French and Russian.

Other productions include: Shakespeare in Love (Noël Coward Theatre), Le Cid for the Avignon Festival, The Winter's Tale for the Maly Theatre of St. Petersburg. Peter Brook invited him to form a company of french actors at The Bouff du Nord where they have done Andromaque. This company is currently touring Ubu Roi.

As Associate Director at the National Theatre his productions include: Fuenteovejuna, Sweeney Todd, The Mandate (first production in the UK), and both parts of Tony Kushner's Angels in America.

Claudio Abbado invited him to direct Falstaff at the Salzburg Festival, 2002.

Previous work at the Bolshoi includes the ballet of Romeo and Juliet in 2003.

Since his production of Boris Godunov for the Chekhov International Festival Donnellan has been working with the same core of russian actors for fifteen years over 5 productions. The most recent one Measure for Measure (co-production with Pushkin Theatre, Moscow) has been nominated for the 2015 Golden Mask awards in 5 nominations.

He directed the film of Bel Ami with Robert Pattinson and Uma Thurman.

His work has received several awards in Moscow, Paris, New York and London, including the Olivier Award for Outstanding Achievement. Hee was made a Chevalier de l'Ordre des Arts et des Lettres for his work in France and in 2008 he shared the Charlemagne award with Craig Ventner and Archbishop Desmond Tutu.

His book, The Actor and the Target, was first published in Russian in 2000 and has subsequently been published in fifteen languages.
Print