Awards
In 1982, he won 2nd prize at the International Ferenc Erkel and Zoltan Kodaly Competition of Vocalists, Budapest, and the prize for the interpretation of an Erkel work in Hungarian.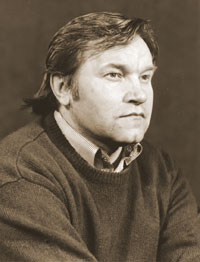 Biography
On completing his studies at Lvov Music College, he enrolled at the Moscow State Tchaikovsky Conservatoire, from which he graduated in 1979 (Hugo Titz's class).
In 1982-1983, he was probationer at the School for Perfecting the Professional Skills of Young Singers, attached to La Scala (teacher — Giuletta Simonato).
From 1978-1992, he was soloist with Moscow's Academic Stanislavsky and Nemirovich-Danchenko Music Theatre, where he worked with conductors Mikhail Yurovsky and Dmitry Kitaenko, and the directors Lev Mikhailov and Harry Kupfer).
In 1992-2015, he was soloist with the Bolshoi Theatre.
Repertoire
His Bolshoi Theatre repertoire included the following roles:
Herman (The Queen of Spades)
Vaudemont (Iolanta)
Beppo (Pagliacci)
Andrei (Tchaikovsky's Mazeppa)
Turiddu (Cavalleria Rusticana)
Vladimir Igorevich (Borodin's Prince Igor)
Lensky (Eugene Onegin)
The Pretender, Shuisky (Boris Godunov)
Radames (Aida)
Paolo (Rakhmaninov's Francesca da Rimini)
Young Gypsy (Rakhmaninov's Aleko)
Mario Cavaradossi (Tosca)
Ismaele (Nabucco)
Сalaf (Turandot)
Grishka Kuterma (Rimsky-Korsakov's The Legend of the Invisible City of Kitezh and of the Maiden Fevronia)

In 1995, he took part in the premiere of the first Bolshoi Theatre production of the Dmitry Shostakovich's version of Khovanshchina (conductor Mstislav Rostropovich, director Boris Pokrovsky), singing the part of Andrei Khovansky.
Tours
From 1993, he has made frequent appearances at the world's leading opera houses where he has sung the following, among other, roles: The Pretender (Boris Godunov) at the Teatro Comunale, Florence (conductor Vladimir Fedoseyev, title role — Ruggiero Raimondi, Marina Mnishek — Olga Borodina); he sang in the same production, in Paris, with Paata Burchuladze; in Nice, with Ruggiero Raimondi; in San Sebastian (Spain), with Evgeny Nesterenko and Lyudmila Shemchuk; and at Vienna State Opera. At the Teatro Comunale, Florence, he sang at the premiere of The Tale of Tsar Saltan (1997, Gvidon). He sang Calaf (Turandot) at Dresden State Opera. In the 1998/99 season, he appeared at the Festival of French Radio, in Montpelier, in Mascagni's Parisina. In 2000, he sang Herman for Welsh National Opera (conductor Vladimir Jurowski, director Richard Jones). He later sang this role at The Royal Opera, London (2001), at Norwegian Opera (Oslo), Lyon National Opera (2003), Theatre de la Monnaie, Brussels (2005). In 2005, he sang Otello and Herman at La Scala, Otello at the Glyndebourne Opera Festival and, the next year, he sang The Pretender (Boris Godunov) at Opera Monte Carlo. In 2007, he sang Agrippa of Nettesheim (The Fiery Angel) at Theatre de la Monnaie, Brussels (conductor Kazushi Ono, director Richard Jones).
Discography
His recordings include:
Tchaikovsky's Iolanta (conductor Vladimir Delman, Bmg Ricordi, 1994) Rakhmaninov's Aleko (conductor Andrei Chistyakov, Le Chant du Monde, 1994)
Rakhmaninov's Francesca da Rimini (conductor Andrei Chistyakov, Russian Season, 1994)
Rimsky-Korsakov's May Night (conductor Andrei Chistyakov, Russian Season, 1995)
Tchaikovsky's The Queen of Spades (conductor Vladimir Fedoseyev, Relief, 2002)

Print