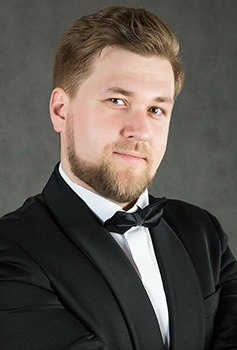 Biography
In 2012 Boris Zhukov graduated from the Chopin Irkutsk College of Music (Marina Prygunova' class), and in 2016 — from the Gnesins Russian Academy of Music (Alexey Mochalov's class). In the Academy's opera studio he sang the part of Doctor Bartolo in Mozart's Le Nozze di Figaro and, the title part in Puccini's Gianni Schicchi.

The soloist of The Kolobov Novaya Opera Theatre.

Roles performed at the theatre:
Doctor Bartolo (Rossini's Il barbiere di Siviglia)
Wagner (Gounod's Faust)
Count Ceprano ( Verdi's Rigoletto)

Also in his repertoire: Dulkamara (L'elisir d'amore), Peter (Hänsel und Gretel), Vladimir Galitsky (Prince Igor).

At the Bolshoi Theatre debuted as Bartolo (Il barbiere di Siviglia) in 2018.
Repertoire
Sir John Falstaff (Salieri's Falstaff, ossia Le tre burle)

Print