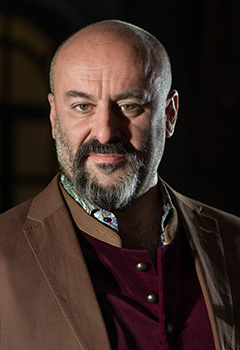 Biography
Davide Livermore (Turin, 1966) was from 2015 to 2017 the general manager-artistic director of the Palau de les Arts Reina Sofía.

He has forged his outstanding 22 year career both on the main stages of Europe and at smaller theatres in his native country Italy, during which time he has been stage director, stage designer, costume and lighting designer, singer, dancer, actor, scriptwriter and teacher. He has worked together with artists such as Luciano Pavarotti, Plácido Domingo, José Carreras, Zubin Mehta, Mirella Freni, Luca Ronconi, Andrei Tarkovsky or Zhang Yimou.

He has worked as stage director for the main Italian theatres: Maggio Musicale Fiorentino, Regio in Turin, San Carlo in Naples, Carlo Felice in Genoa, La Fenice in Venice, in addition to the Rossini Opera Festival of Pesaro. Outside Italy, he has worked at the opera houses of Philadelphia (USA), Montpellier and Avignon (France), as well as the Bunka Kaikan Theatre in Tokyo and Seoul Arts Center. In Spain, his productions have been staged at the Opera House in A Coruña, Teatro Arriaga in Bilbao and Teatro de la Zarzuela in Madrid.

Since 2002, Davide Livermore has been artistic director of the Teatro Baretti in Turin, where he has devoted his time to experimental music theatre. A cultural policy based on social volunteer, has changed -in just fifteen years- the atmosphere around the theatre. An initially dangerous and problematic neighbourhood is now a meeting point in Turin.

In the educational field, he has developed his activity as Head of the Arte Scenica School of the Teatro Stabile in Turin and he taught stage direction and stage design at the IUAV University of Venice.

As regards television, Davide Livermore has worked for Televisione della Svizzera Italiana as scriptwriter and actor in W Verdi, Giuseppe and in the series Livermore sciò, for which he was nominated to the Rose d'Or award in Montreux.

The critics have praised Davide Livermore as one of the newcomers of great merit on the operatic scene. His production of I vespri siciliani, with which the Regio in Turin celebrated the 150th anniversary of the unification of Italy, was chosen by Musical America as one of the 10 best shows of 2011. He has celebrated the 200th anniversary of Il barbiere di Siviglia's premiere with a new production for Opera di Roma.

Between 2013 and 2017 he was also artistic director of the Centre de Perfeccionament Plácido Domingo, Palau de les Arts young artists program, which he is able to combine with his new post at the Valencian arts centre. He has been responsible for some of the most successful performances in the brief history of the Palau de les Arts: La Bohème by Puccini, and the Verdi operas Otello and La forza del destino. He was awarded his first Premio Lírico Teatro Campoamor for his staging of La forza del destino. Most recently, the Valencian audience has enjoyed his new productions of Bellini's Norma, with Mariella Devia conducted by Gustavo Gimeno, and Mozart's Idomeneo, with Gregory Kunde conducted by Maestro Fabio Biondi.

Under his guidance, the Centre de Perfeccionament Plácido Domingo made his debut in Austria, at the Innsbruck Festival of Early Music with Narciso by Scarlatti. During this season, he is preparing a new production of The Turn of the Screw by Benjamin Britten. Davide Livermore has already staged L'incoronazione di Dario, Juditha Triumphans, Canti dall'Inferno with the young singers.

The season 2017-2018 includes new productions of Tamerlano (La Scala in Milán), Adriana Lecouvreur (Monte Carlo), Un ballo in maschera (Moscow), Manon Lescaut (Barcelona) and Aida (Sydney).

As a pupil of Carlo Majer, Davide Livermore learned the ability of the theatre to speak about the people, and he strongly defends public theatre and culture as a social promoter.
A defender of traditional repertoire, Davide Livermore has shown he is keen to include zarzuela (Spanish light opera) and both baroque and contemporary opera in the programmes of the Palau de les Arts over the next few years, as well as intensifying activities at the Teatre Martín i Soler in an aim to attract new audiences for Valencian opera.

He is Ufficiale dell'Ordine della Stella of Italy.
Print