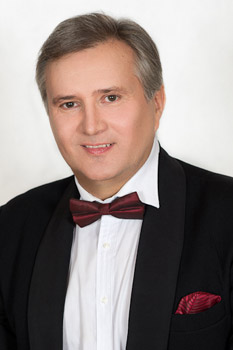 Biography
Born in Moscow. As a child, he was soloist with the Russian Radio and Television Children's Choir, led by Viktor Popov. He completed his studies at the Russian Academy of Theatre Art (A. Matyushina's class). While still a student, he was probationer at the Stanislavsky and Nemirovich-Danchenko Musical Theatre.
Since 1987, he has been soloist with the N. Sats Children's Musical Theatre.

He started his professional career as a baritone. Among the roles he sung were:
title role (Eugene Onegin)
Venetian merchant (Sadko)
Valentin (Faust)
Sharpless (Madama Butterfly)

For the past years, he has been appearing as a tenor.
His repertoire includes:
Canio (Pagliacci)
Pinkerton (Madama Butterfly)
Radames (Aida)
Lensky (Eugene Onegin)
Pretender (Boris Godunov)
Lykov (The Tsar's Bride)
Indian merchant (Sadko).

In 2001, he made his debut at the Bolshoi Theatre.
Repertoire
At the Bolshoi Theatre:

Spoletta (Tosca)
Poisson (Adriana Lecouvreur)
Gvidon (The Golden Cockerel)
Pang (Turandot)
Leshy, First herald (The Snow Maiden)
Chekalinsky, Master of ceremonies (The Queen of Spades)
Streshnev (Khovanshchina)
Iskra (Mazeppa)
Mathias Wiessman, Doctor (The Fiery Angel)
Third foreman (The Lady Macbeth of Mtsensk)
Young boy, Bomelius (The Tsar's Bride)
Footman, Orderly, Kutuzov's aide-de-camp (War and Peace).
Parpignol (La Boheme)
Abdallo (Nabucco)
Almerik (Iolanta)
Missail, Court Boyar, Boyar from Kromy (Boris Godunov)
Marschallin's Major-Domo, Faninal's Major-Domo, an innkeeper (Der Rosenkavalier)
Balakin (The Enchantress)
Giuseppe (La Traviata)
A Notary (La sonnambula)
Ovlur (Prince Igor)
The First Actor, The First Robber (Banevich's The Story of Kai and Gerda)
Second labourer, Coachman (Katerina Izmailova)
First Guest (The Stone Guest)
Tours
He tours throughout the country and abroad. He has sung in the following, among other, countries: Austria, Australia, Germany, Bolivia, Ecuador, Peru, Japan, France.

Print