Awards
She was a diploma-winner at the International Competition of Vocalists, in Toulouse (1996), award-winner and winner of the prize for most popular artist with the audience at the television Irina Arkhipova presents Competition devoted to the 850th anniversary of Moscow (1997).
In 1997, for her performance as Angelina (Cinderella) at the Yekaterinburg Experimental Musical Theatre, she was recommended for the Golden Mask National Theatre prize.
In 1999, she won theatre prize A Magic Coulisse for her performance as Laura (Dargomyzhsky's The Stone Guest).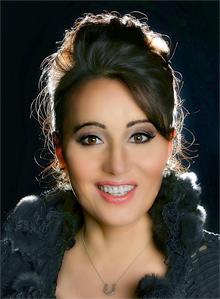 Biography
Born in Chelyabinsk. Completed her studies at the Saratov L.Sobinov State Conservatoire. She has worked with the Perm Academic Tchaikovsky Theatre of Opera and Ballet and the Dnepropetrovsk State Theatre of Opera and Ballet. From 2001-06, she was a soloist with Moscow's Stanislavsky and Nemirovich-Danchenko Musical Theatre.
In 2002, she made her Bolshoi Theatre debut as Mother Goose (The Rake's Progress). Now she participates in Bolshoi opera productions as guest soloist.
Repertoire
Her repertoire at the Bolshoi includes the following roles:
Mother Goose (Stravinsky's The Rake's Progress)
Olga (Eugene Onegin)
Innkeeper (Mussorgsky's Boris Godunov)
Sonya, Second French Actress (Prokofiev's War and Peace)
Polina, Milovzor (The Queen of Spades)
Smeraldina (The Love for Three Oranges)

Also she has in repertoire:
Angelina (Rossini's Cinderella)
Arsace (Rossini's Semiramide)
Isabella (Rossini's L'italiana in Algeri)
Rosina (Il Barbiere di Siviglia)
Amneris (Aida)
Carmen (Carmen)
Cherubino (Le Nozze di Figaro)
Dorabella (Cosi Fan Tutte)
Dalila (Saint-Saens's Samson et Dalila)
Eboli (Don Carlos)
Preziosilla (La Forza del Destino)
Suzuki (Madama Butterfly)
Clara (Prokofiev's Betrothal in a Monastery)
Laura (Dargomyzhsky's The Stone Guest)
Lyubasha (Rimsky-Korsakov's The Tsar's bride)
Marina Mnishek (Mussorgsky's Boris Godunov)

In 2007, she perfected her Rossini style and technique under maestro Alistair Dawes' at his master-class (Parma, Italy).
Tours
In 2000, she sang Sonya at the premiere performances of a production of War and Peace for the Paris National Opera (conductor Gary Bertini, director Francesca Zambello). In 2004, she participated in the Fete de la Musique Festival (Avignon, France). In 2005, she sang Eboli at the Sferisterio Opera Festival in Macerata, Italy (conductor and director Gustav Kuhn). In the same year, she appeared as Klytemnaestra (Elektra) at the Tiroler Festspiele (Erl, Austria, conductor Gustav Kuhn, director Lorenzo Fonda).
She has appeared at the opera-houses of Bologna, Toulouse, Barcelona. She has toured in the Czech Republic, Poland, Italy and France.
Discography
Romances of Russian Composers, Marika Novikova (piano), Sonopress, 2005.

Video:
War and Peace — Sonya, conductor Gary Bertini, director Francesca Zambello, TDK, 2003.

Personal website: www.mamsirova.com
Print