Awards
1st prize-winner at the All-Russian Bella Voce Competition (1997).
1st prize-winner at the 18th Glinka International Competition of Vocalists (1999).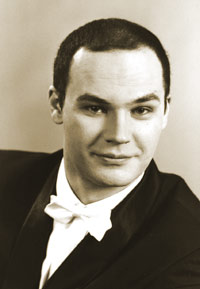 Biography
Born in Moscow, into a family of music-teachers. In 1992, he graduated from the Moscow Shnitke Music College (wind instruments class). In 1996, he graduated from the vocal department of the Moscow Shnitke State Institute of Music. In 1998, he continued his education at the Moscow State Conservatoire (Pyotr Skusnichenko's class). From 1998-1999, he was soloist with Boris Pokrovsky Chamber Music Theatre.
In 2001-2015, he was the Bolshoi Theatre Opera Company soloist.
Repertoire
At the Bolshoi Theatre he has sung the following, among other, roles:
Nikitich, Rangoni (Mussorgsky's Boris Godunov)
Angelotti (Tosca)
Bermyata, Carnival-scarecrow (Rimski-Korsakov's The Snow Maiden)
Director of the сasino (Prokofiev's The Gambler)
Mayor (La Forza del Destino)
Quinault (Cilea's Adriana Lecouvreur)
Colline (La Boheme)
Varsonofiev (Mussorgsky's Khovanshchina)
Timur (Turandot)
Nick Shadow (Stravinsky's The Rake's Progress)
Celio (Prokofiev's The Love for Three Oranges)
Svetozar (Glinka's Ruslan and Ludmila)
Banquo (Macbeth)
Gremin (Eugene Onegin)
Kochubey (Mazeppa)
Inquisitor (Prokofiev's The Fiery Angel)
Vocal solo (ballet Leah to music by Leonard Bernstein, Alexei Ratmansky production)
Old Convict (Shostakovich's The Lady Macbeth of Mtsensk)
Alex Rosenthal (Desyatnikov's The Children of Rosenthal)
Bonza (Madama Butterfly)
Sarastro (Die Zauberflote)
Dolokhov, Marshal Berthier (Prokofiev's War and Peace)
Salieri (Rimski-Korsakov's Mozart and Salieri)
Zaccaria (Nabucco)
Escamillo (Carmen)
Gusli player (Rimski-Korsakov's The Legend of the Invisible City of Kitezh and of the Maiden Fevronia)
Foka (The Enchantress)
Baron Douphol (La Traviata)
Bertrand (Iolanta)
Flemish deputy (Don Carlo)
Tours
Tours in Russia and abroad.
He has given concert appearances in Germany and Finland (2003, 2004).
In 2005, he sang Leporello (Don Giovanni) in Kristiansand (Norway). In the same year, he took part in a concert performance of Stravinsky's Le Rossignol in Copenhagen (director Alexander Vedernikov).
In 2006, he sang Old convict at the Latvian National Opera (conductor Gintaras Rinkevicius, director Andrejs Jagars). In the same year, he took part in a concert performance of The Lady Macbeth of Mtsensk, singing parts of Boris Timofeyevich and Old convict at the Congress Concert Hall (Vilnius, conductor Gintaras Rinkevicius).
In 2007, he sang Sparafucile (Rigoletto) at the Teatro Nacional de Sao Carlos (Lisbon), Zaccaria at the Bergen Opera. In 2008, — Mephistopheles (Faust) in Basel.

Print