Contests
The 3rd prize winner of the International Contest of Young Singers "Madame Butterfly" (Moldova, 2007) and the 4th prize winner of the International Contest after M.Lisenco (Ukraina, 2007).
Diploma of the International Tenor Competition in memory of Luciano Pavarotti (Modena, 2008).
The 1st prize winner at the International Competition of opera singers «Saint-Petersburg» (2009).
The 2nd prize at the II International Contest for Young Opera Singers in honor of Maxim Mikhailov (Cheboksary, 2011).
The 1st prize at the International Contest of Opera Singers "Maria Bieşu" (Moldova, 2012).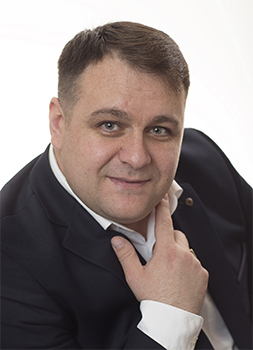 Biography
Born in Moldova.
In 2002 Igor Tsurcan graduated from Theological Seminary in Chisinau and in 2007 — from Theological Seminary in Kiev (Ukraine). He studied at the vocal department in the Academy of Music, Theatre and Fine Arts (Moldova), from which he graduated in 2009. He participated in concert and festival performances of the Academy.
In 2009 he became a soloist of the National Opera and Ballet Theatre Maria Biesu (Moldova), where he performed the following roles: Pong (Puccini`s Turandot), Dancairo (Bizet`s Carmen), Mario Cavaradossi (Puccini`s Tosca), Pinkerton (Puccini`s Madame Butterfly), Roderigo (Verdi`s Otello), tenor part in Verdi`s Requiem.

In 2016 he joined the Bolshoi Theatre Opera Company.
Repertoire
at the Bolshoi

The First Actor/ The First Robber (The Story of Kai and Gerda by Banevich)
Tenor II (Renard by Stravinsky in the performance The Fables of the Vixen, the Duckling and Balda)
First labourer, Drunken guest (Katerina Izmailova by Shostakovich)
Laura's Guest/ Laura's Guests ( The Stone Guest by Dargomyzhsky)
First Town Crier (The Snow Maiden by Rimsky-Korsakov)
Giuseppe (La Traviata by Verdi)
Master of Ceremonies (The Queen of Spades by Tchaikovsky)
Court Boyar/ Boyar from Kromy (Boris Godunov by Mussurgsky)
Grinder (The Idiot by Weinberg)
Tenor/ The Intendant (Nureyev ballet by Demutsky)

Print