Awards
The winner of the Union of Theater Workers of the Russian Federation "The Best Debut" Prize (set design for Iolanta by Tchaikovsky at the Opera and Ballet Theatre of the St. Petersburg Conservatory, 1997).
Double-winner of St. Petersburg theatrical prize the Golden Soffit;
the recipient of the Novosibirsk region Governor's Award;
the laureate of Inter-regional theater festival Siberian Transit;
the laureate of the Golden Seahorse festival Festival-Contest;
and Creative Olympus Festival-Contest;
multiple winner of Theatre Festival-Contest Paradise organized by Novosibirsk Branch of the Russian Theatre Association.
Member of the Russian Union of Artists.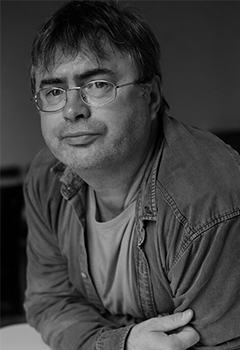 Biography
After the graduating from Konstantin Savitsky Art College in 1985, Oleg Golovko was engaged as designer at the National Basangov Drama Theatre (Elista) and Stavropol Academic Drama Theatre named after M. Lermontov.
In 1990-1997, he studied theatre design at the Ilya Repin St. Petersburg Academic Institute of Fine Arts, Sculpture and Architecture (class of E. Kochergin). During this time he also completed his probation at the School of Fine Arts in Paris. He was awarded the International Student Prize "Seasons" (Paris), Student Prize "The Muse of St. Petersburg", and The Union of Theater Workers of the Russian Federation "The Best Debut" Prize for set design for Iolanta by Tchaikovsky at the Opera and Ballet Theatre of the St. Petersburg Conservatory (1997).

In 2000-03, he worked for the Altai Regional Drama Theatre as chief scenographer (Barnaul).
In 2004-06 — principal designer with the "Red Torch" Novosibirsk Drama Theatre.

Has designed over hundred productions at drama and music theatres in Russia and abroad.

Among his drama works are:
Watchman (Tomsk Drama Theatre);
The Old World Landowners, Nummi Fars (National Theatre of Karelia, Petrozavodsk);
Watchman, The Generous Cuckold, Romeo and Giulietta, The Nutcracker, The Sandpit Generals, Too Married Taxi Driver, Seagull, Heart of a Dog, The Queen of Spades, Enough Simplicity in Every Sage (Altai Drama Theatre);
We Don't Trifle With Love, The Pickwick Club, The Importance of Being Earnest, Death is not a Bike to It was Stolen From You (Omsk Drama Theatre);
The Taming of the Shrew (Ekaterinburg Young Spectators' Theater);
Romeo and Giulietta (Ekaterinburg Drama Theatre);
Lerka (The Baltic House Theatre);
Richard III, Macbeth, The Wood, Tartuffe, Holy Kabbalah, The Queen of Spades, The Death-Defying Act, Masquerade, Hedda Gabler, Onegin, Children of the Sun ("Red Torch" Novosibirsk Drama Theatre);
The Overcoat (The Chekhov Moscow Art Theatre);
Ekaterina Ivanovna, Carmen (Volkov Drama Theatre in Yaroslavl);
The Time of Women, The Cripple of Inishmaan (Tovstonogov Bolshoi Drama Theater in St. Petersburg);
Electra, #shakespeare'ssonnets, Ivanov (The State Theater of Nations in Moscow);
At the Pole of Cold after Shalamov's Kolyma Tales (Residenztheater in München 2018).

Opera credits include:
Stravinsky's Mavra, Tchaikovsky's Iolanta at the Opera and Ballet Theatre of St. Petersburg Conservatory;
Nesterova's The Lawsuite (Gogoliada) at the Mariinsky Theatre (director A. Kovalenko, 2009);
Wagner's Tannhäuser at the Novosibirsk Opera and Ballet Theatre (director T. Kulyabin, 2015);
Donizetti's Don Pasquale at the Bolshoi Theatre (director T. Kulyabin, 2016);
Verdi's Rigoletto at the Opernhaus Wuppertal (director T. Kulyabin, 2017).

Has collaborated with such directors as Gennady Trostyanetsky and Boris Tseitlin (St. Petersburg), Georgy Tskhvirava (Omsk), Oleg Rybkin (Krasnoyarsk), Mikhail Skomorokhov (Perm), Yury Muravitsky, Vladimir Zolotar, Alexander Pletnev, Anjei Buben (Poland), Riccardo Sottili (Italy), Jan Willem van den Bos (Great Britain) and others.

Over ten years he works with Timofei Kulyabin, release about twenty productions. The play Three Sisters by Chekhov was awarded Golden Mask Special Prize, and was shown at such festivals as International Festival of Contemporary Art Territory in Moscow, Wiener Festwochen, The Paris Autumn Festival, International Platonov Arts Festival in Voronezh.

Since 2017, has been teaching in Faculty of Scenography and Theatre Technology of the Russian State Institute of Performing Arts, St. Petersburg.

The works by Oleg Golovko are kept in collections of the St. Petersburg State Theater Library, the St. Petersburg State Museum of Theater and Music Art, private collections in Russia, the USA, France, Finland and the Netherlands, and were presented at exhibitions of the Union of Theater Workers, museums of St. Petersburg, as well as in galleries and art centers in the United States. His solo exhibitions was held in the Voronezh Chamber Theater Art Gallery and the K.S. Stanislavsky House an Actor in St. Petersburg.



Print