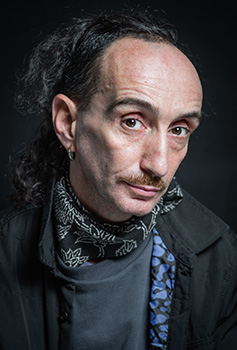 Biography
Graduated from the Jāzeps Vītols Latvian Academy of Music as drama actor, studied contemporary dance and improvisation at Gennady Abramov's experimentative 'Expressive Movement' studio at Anatoly Vassiliev's Drama School Theatre.

In 1998-2001 participated in Sasha Waltz's Russian project 'On Earth' as a dancer and an actor. Studied contemporary dance at master classes of the leading specialists from Europe and US.

In 1999 co-founded dancing company P.O.V.S. Tanze, participated in all the projects of the company as a creator and a performer (more than 20 performances, including We were Here (2018), Ark (2017), Blood (the best experimental performance at the Christmas Parade festival, 2016; the nominee of the Russian National Theatre Award The Golden Mask, 2017), Beetles (2014), Anticipation/Afterglow/Anthem and Zo Noise (2013), solo project My Dad's Rambo (2011), TOUCH (2009), Probability practice (2008), etc. Projects of the company were largely presented at modern dance festivals in Russia, Ukraine, Latvia, Estonia, Poland, Germany, the Netherlands, Belgium, US and Israel.

In collaboration with Sasha Konnikova he worked as a guest choreographer for various companies (Dialogue Dance company, Kostroma), Joka Jok dance group (Nairobi, Kenya), and theatres The Color Dreams of a White Donkey at the Theatre of Nations, Virus of Unknown Dance at the ZiL Art Center, etc.

Since 2001 creates choreography and plastique for drama and musical theatre, collaborated with directors E. Pisarev, Y. Lomkin, Y. Urnov, K. Serebrennikov, E. Granitova, etc.

Among his recent works are The Twelve Chairs and The Drunks (directed by Y. Lomkin, Russian Drama Theatre, Izhevsk), Shakespeare in Love (in collaboration with Sasha Konnikova, directed by E. Pisarev, the Pushkin Theatre), Kynaston (in collaboration with Sasha Konnikova, directed by E. Pisarev, the Oleg Tabakov Theatre); opera Maniozis (directed by A. Belousov, the Stanislavsky Electrotheatre), Oranges and Lemons, The House That Swift Built (directed by E. Pisarev, the Pushkin Theatre); operas Le Nozze di Figaro and Il Barbiere di Siviglia (directed by E. Pisarev, the Bolshoi Theatre), An Odyssey of the North (directed by E. Granitova, RAMT).

Currently works as a ballet master at the Stanislavsky Electrotheatre, where he has staged dance performance Just So in collaboration with Sasha Konnikova. Performs Episode IV in an opera series Drillalians.
Print