Awards
Prize-winner at the Chaliapin Open Vocal Competition (Grand Prix, Yaroslavl, 2003)
Prize-winner at the Silver Voice All-Russian Competition (Moscow, 2005)
Diploma-winner and recipient of the "Hope" Prize af the Saint-Petersburg International Competition for Opera Singers (2009)
Prize-winner at the International Competition of mezzo-sopranos in memory of Fedora Barbieri (2nd prize, Saint-Petersburg, 2012)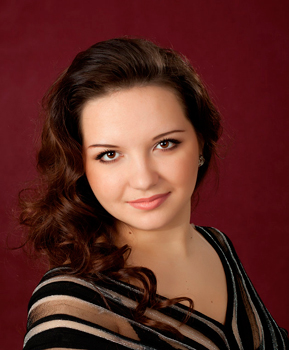 Biography
In 2010 she graduated from the Moscow State Conservatoire (Galina Pisarenko's class). She performed Laura in Iolanta, Orfeo in Orfeo ed Euridice in the Conservatoire opera studio.
In 2007–2009 she attended the Moscow International Vocal School where she studied with Gloria Guida Borelli and Giandomenico Bisi (Italy), George Darden, Diane Zola and Richard Bado (USA).
In 2012 she graduated from the Popov Academy of Choral Art (Dmitri Vdovin's class).
In 2010 she joined the Moscow's Novaya Opera theatre.
Repertoire
Tisbe (La Cenerentola)
Dunyasha (The Tsar's Bride)
Fyodor (Boris Godunov)
Laura (Iolanta)
Spring (The Snow Maiden)
Myrtale (Thais)
Page (Rigoletto)
Dorothy Burk, Dido (Purcell's Dido and Aeneas with the prologue by Michael Nyman)
She-Goat (The Cat's House)

In 2014 she made her debut at the Bolshoi Theatre as the Little Robber Girl (Banevich's The Story of Kai and Gerda). In 2015 she sang the role of Laura (Iolanta).

Print