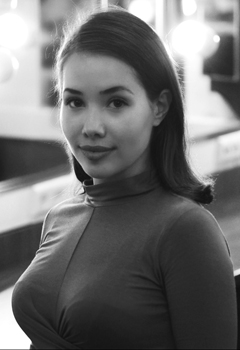 Biography
Born in Novosibirsk, Eleonora Gvozdkova is graduated from music school as a pianist. Then she began her vocal studies under Andrei Zaboronok at the Yuri Shaporin music school (Moscow).

Since 2006, she has been a member of the Bolshoi Theatre Children`s Choir. Participated in productions and concert performances of the collective.

In 2013 she is graduated from the vocal department of the Moscow State Tchaikovsky Conservatory Academic Music College (class of G. Koroleva).
Since 2014, has been studying under N. Terentyeva at the Vocal Faculty of The Gnessin Russian Academy of Music.


Repertoire
At the Bolshoi
The Third Boy (The Magic Flute by Mozart)
A Shepherd Boy (Tosca by Puccini)
An Orphan/ Three Noble Orphans (Der Rosenkavalier by R. Strauss)
Tsar's Serving Boy (The Snow Maiden by Rimsky-Korsakov)



Print