Awards
The Golden Mask National Theatre Prize as the best choreographer Violin Concerto No 2 (2017).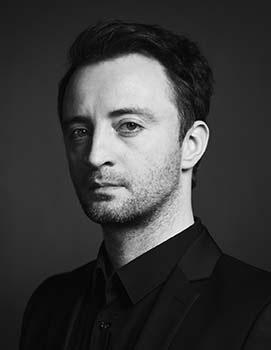 Biography
Graduated from the Vaganova Academy of Russian Ballet in 1999.
From 1999–2017, he was a dancer with the Mariinsky Ballet. Performed roles in K. Sergeyev's versions of M. Petipa's ballets
The Sleeping Beauty
(Carabosse the Wicked Fairy) and
Raymonda
(variation), A. Gorsky's ballet
Don Quixote
(Gamache), L. Yakobson's productions of
Shurale
(Shurale) and
Spartacus
(Etruscans), G. Balanchine's ballets
Prodigal Son
(Friend of the Prodigal),
Symphony in C
(III. Allegro vivace),
Jewels
(Rubies),
Theme and Variations, The Four Temperaments
(Phlegmatic),
Piano Concerto No 2
(Ballet Imperial)
and
Scotch Symphony
, W. Forsythe's ballets
In the Middle, Somewhat Elevated, Approximate Sonata
and
Steptext,
A. Ratmansky's ballets
The Little Humpbacked Horse
(Gypsy Dance),
Cinderella
(Summer) and
Concerto DSCH
and K. Simonov's ballets
Come in!, The Nutcracker
(Recruit, Petrouchka, Spanish Dance),
Princess Pirlipat, or Worthiness Punished
(Spanish Rats' Dance) and
Glass Heart
(Gardener), as well as appearing in ballets by J. Neumeier, A. Preljoçaj, R. Petit, P. Lacotte, A. Miroshnichenko and N. D. Gelber.
In 2013, as part of the Mariinsky Theatre's project A Creative Workshop of Young Choreographers, he Pimonov staged the one-act ballet Choreographic Game 3x3 to music by J. P. Pixis (Piano Concerto in C Major, 3rd movement), which entered the Mariinsky Theatre's repertoire.

The same year at the Leonid Yakobson Ballet Theatre he staged two of his one-act ballets – Iberia to music by C. Debussy and In the Rhythm of Dreams to music by S. Prokofiev (Sonata for Violin and Piano).

In 2014, he mounted the ballet Inside the Lines to music by M. Ravel (Piano Concerto No 1 in G Major) at the Mariinsky Theatre.
The same year he presented his first two-act production, S. Prokofiev's ballet Romeo and Juliet, at the Leonid Yakobson Ballet Theatre.
In 2015, at the Mariinsky Theatre he created Bambi to music by A. Golovin and In the Jungle to music by A. Lokshin.
In 2016, for The Theatre Ballet Moscow he staged the production The Moon across the Way to music by J. Adams.
At the Mariinsky Theatre in 2016 he presented Violin Concerto No 2 to music by S. Prokofiev and in 2017 there came The Cat on the Tree to music by N. Muhly and T. Lassen.
In 2017-20, he was Deputy Artistic Director of the Ballet Company of the Ekaterinburg Opera and Ballet Theatre (Ural Opera Ballet), where he created such ballets as Brahms Party to music by I. Brahms and The Little Humpbacked Horse by A. Korolyov (co-choreographer V. Samodurov).
Since 2020, he has been Ballet Director of the Perm Opera and Ballet Theatre. His productions for the company include
Chansons gaillardes
to music by F. Poulenc,
Concert No 5
to music by S. Prokofiev,
The guide to ballet
to music by N. Khroustcheva and P. Tchaikovsky.
In 2018, he made his debut as choreographer at the Bolshoi Theatre with Fiancailles pour rire to music by F. Poulenc (the ballet was a part of A Play for Him project).
Print