Awards
2nd Prize at the Barsova Russian National Open Vocal Competition (Sochi, 2011)
Grand Prix at the 3rd International Shtokolov Vocal Competition (St. Petersburg, 2012)
2nd Prize at the 1st Russian National Shebalin Vocal Competition (Omsk, 2012)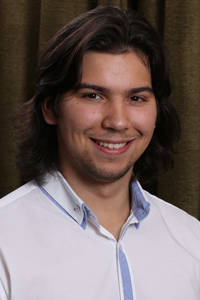 Biography
Born in Omsk in 1990. In 2008 graduated from the Omsk College of Transport Technologies and enrolled at the Omsk Schebalin Music College for vocal studies with Raisa Chebanenko.
Pavel Tchervinsky is a soloist of the Omsk Philharmonic where he gave his first recital in June 2012.

After graduation from the College in 2012 he joined the Young Artist Program of the Bolshoi Theatre. As studio artist he has worked with such coaches as Irina Bogacheva, Svetlana Nesterenko, Evgeny Nesterenko, Elena Obraztsova, Lyubov Orfenova, Stephanie Rhodes, Neil Shicoff, Dmitry Vdovin and Diane Zola. He leaved Bolshoi Young Artist Program in 2014.
Repertoire
At the Bolshoi:
The Doorkeeper (Die Zauberfloete)
Mityusha (Boris Godunov)
Alessio (La Sonnambula)
A Gaoler (Tosca)
Flemish deputy (Don Carlo)
Count Ceprano (Rigoletto)

Print