Awards
Prize-winner of the International Competition 'Three Centuries of Classical Romance' (2nd Prize, St. Petersburg, 2010)
Prize-winner of the ternational Galina Vishnevskaya Opera Singers Competition (2nd Prize, Moscow, 2012)
Prize-winner of the VI International Competition of Opera Singers 'Saint Petersburg' (1st Prize, 2013)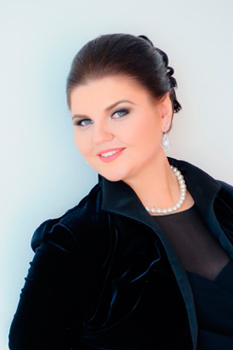 Biography
Anastasia Kikot was born in in Khabarovsk. In 2007 she graduated from the voice department of the Khabarovsk State College of Arts. In 2012 she graduated from the Saint Petersburg State Conservatory where she studied with Prof. Irina Bogacheva.

In 2011-13 Anastasia was a member of the Young Artists Program of the Bolshoi Theatre where she has worked with such coaches among others as Irina Bogacheva, Laurent Campellone, Irina Kataeva, Svetlana Nesterenko, Elena Obraztsova, Dmitry Vdovin, Andrejs Zagars and Diane Zola. In 2012 Anastasia made her debut at the Bolshoi in Mussorgsky's Boris Godunov singing the First Woman and later also sang Polya in Tchaikovsky's The Enchantress.

While still in college, she gave recitals with the local Philharmonic and also with the Far East Symphony Orchestra. She has performed in concerts in Khabarovsk, Minsk, Saint Petersburg, Vienna, Berlin, Sicily.

In 2012 she took part in concert performances of Mascagni's L'amico Fritz (conductor Antonino Fogliani) and Stravinsky's Le Rossignol (conductor Marius Stravinsky) at the Tchaikovsky Concert Hall in Moscow. In 2013 she took part in Yuri Bashmet International Music Festival in Khabarovsk.

She made her role debut as Tatiana (Eugene Onegin) at the The National Academic Bolshoi Opera and Ballet Theatre of the Republic of Belarus.

In 2014 she joined The State Primorsky Opera and Ballet Theater (since 2016 - Primorsky Stage of the Mariinsky Theatre).
Repertoire
Iolanta (Iolanta)
Militrisa (The Tale of Tsar Saltan)
Maria (Mazeppa)
Tatiana (Eugene Onegin)
Liza (The Queen of Spades)
Zemfira (Aleko)
Mimi (La Boheme)
Micaela (Carmen)
Fiordiligi (Cosi fan tutte)
Olga (The Story of a Real Man)
Parasha (Mavra)
Polya, Nastasya (The Enchantress)
Marfa (The Tsar's Bride)

Print