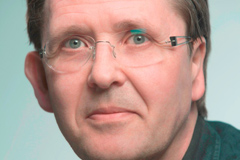 Biography
After his studies at the Brussels Academy of the Arts, Kees Tjebbes worked with several Dutch theatre and dance groups: Toneelgroep Theater, Introdans, Scapino Ballet Rotterdam and Nederlands Dans Theater. For Introdans and Scapino Ballet Rotterdam he began to create light designs for new works by choreographers such as: Ed Wubbe, Nils Christe and Itzik Galili.

In 2000, Jiri Kylian asked him to create the light design for Click-pause-Silence and since that time he has collaborated with Kylian on almost all of his dance productions: 27'52 (NDT II/2002), Claude Pascal (NDT I/2002), "When Time Takes Time (NDT III/2002, Far too close (NDT III/2003), Last Touch (NDT I/2003), Sleepless (NDT II/2004), Toss of a Dice (NDT I/2005), Chapeau (NDT II/2006), Tar and Feathers (NDT I/2006), Vanishing Twin (NDT I/2008), Gods and Dogs (NDT II/2008), Memoires d'Oubliettes (NDT I/2009) and his creation for the Ballet de l'Opera de Paris Il faut qu'une porte (2004).

During these last years, Kees Tjebbes has supervised, adapted or re-created the light designs for all Kylian productions being staged or re-staged all over the world.
Print