Awards
Ms. Kubas received awards at many vocal competitions both in Poland and abroad: Special Award at the 48th International Vocal Competition in Toulouse (2010), First award and the Award for the best coloratura soprano at the 7th St. Moniuszko International Vocal Competition in Warsaw (2010), First award and Special Award at the 7th Karol Szymanowski International Vocal Competition in Lodz, Poland (2009), First award at the 4th Solomiya Krushelnytska International Competition of Opera Singers in Lviv, Ukraine (2009), Special Award at the 39th Toti dal Monte International Vocal Competition in Treviso, Italy (2009), First Award and a Special Award in the 4th H. Halska-Fijalkowska Polish Vocal Competition (2007), The Award for the youngest finalist and the Audience Award at the International Vocal Competition in Malmo, Sweden (2007).
In May 2009 she received Jan Kiepura Award for the best female singer in Poland. In December 2009 she received Wroclaw Music Award for excellent performances of the Opera House.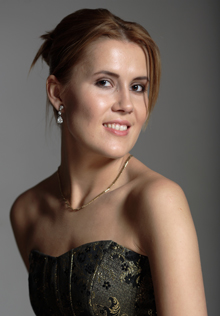 Biography
Aleksandra Kubas graduated from Karol Lipinski Academy of Music in Wroclaw, class of opera singing under the guidance of professor Danuta Paziuk-Zipser in 2008. During her sophomore year she perfected her skills at the Music University of Vienna.

She is a recipient of the scholarship of the Polish Ministry of Culture and Arts, the Head of the Regional Counsel of Lower Silesia as well as the Metropolitan of Wroclaw.

She had her Opera debut at the premier show of Rigoletto, singing the role of Gilda, at the Opera of Wroclaw on December 2007. From that time she performed main opera parts, such as Adina (L'elisir d'amore), Susanna (Le nozze di Figaro), Pamina (Die Zauberfloete), Hanna (The Haunted manor), Olimpia (Les contes d'Hoffmann) at the Wroclaw Opera. In 2010 she performed the part of Cunegonde (Bernstein's Candide) in theatres in Italy (Lucca, Ravenna, Livorno and Pisa) under the guidance of Maestro Elio Boncompagni.

She is requested to perform at many concerts, festivals and performances in Poland, Germany, Czech Republic, Italy. She performs opera, oratorio, as well as songs (Lieder) repertoire.

Ms. Kubas was a participant of many mastercourses by famous singing teachers, such notables as I. Kremling, S. Vittucci, P. Tschaplik, T. Zylis-Gara, M. Habela, R. Resnik.

In 2011 she made her debut at the Bolshoi Theatre as Tsaritsa of Shemakha (The Golden Cockerel). In the same year she sang the part of Queen of the Night (Die Zauberfloete). In 2013 she took part in the production of L'enfant et les Sortilèges, singing the roles of The fire, The princess, A nightingale (conductor Alexander Soloviev, director Antony Macdonald).
Print