Awards
Twice winner of the Oleg Tabakov Award: in 2014 was he was noted «for the bright and deep incarnation of the image of a porcelain doll with a lively heart» (The Amazing Journey of the Rabbit Edward, Moscow Art Theater), and in 2015 for creating the performance 19.14.

In 2015, he received the jury prize of the Russian National Theater Award and Festival «Harlequin» for his interpretation of the role in The Amazing Journey of the Rabbit Edward.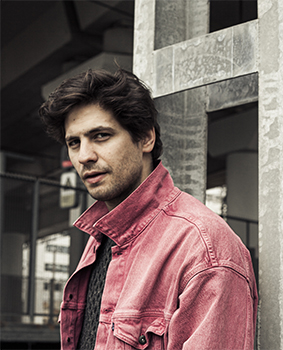 Biography
Born in St. Petersburg.
In 2008 he graduated from the Anichkov lyceum. In 2012 he graduated from Russian Institute of Theatre Arts (Leonid Heifetz's acting and directing course).
In 2012–20 he was an actor of the Chekhov Moscow Art Theatre.
His acting works include:
Vasechka in Suburbian Rendezvouses after Alexander Vampilov's play The Elder Son at the Nikolay Akimov Saint Petersburg Comedy Theatre; Tishka in It's a Family Affair – We'll Settle It Ourselves by Alexander Ostrovsky at the Theatre on Liteyny Avenue, St. Petersburg; Yura in The Slow Sword by Yuri Klavdiev at the Alexei Kazantsev and Mikhail Roshchin Centre for Drama and Direction, Moscow; Puck in Shakespeare's A Midsummer Night's Dream at Stanislavsky and Nemirovich-Danchenko Moscow Music Theatre; Dmitriy (Zvezdich) in Mikhail Ugarov's Masquerade Masquerade based on the drama by Mikhail Lermontov at the Vsevolod Meyerhold Center; Vronsky in Karenin by Vassily Sigarev, Edgar in Die neuen Leiden des jungen W. by Ulrich Plenzdorf, Augustus Snodgrass in Dickens's The Pickwick Club, Yashka Pisetskiy in The Tale of What We Can and What Not by Mihail Durnenkov based on the prose by Petr Lutsik and Alexey Samoryadov, Fadinard in The Italian Straw Hat by Eugène Labiche, Edward in The Miraculous Journey of Edward Tulane by Kate DiCamillo, Alexei Bulanov in Alexander Ostrovsky's The Forest – all of them at the Chekhov Moscow Art Theatre.

Author and director of performances of the Moscow Art Theatre 19.14 (2014), Rebels (2015) and 19.17. The Bright Way (2017), director of the musical evening Night of the Lovers.

His cinema directing works include Myths (2017), Fled to Arizona (2018), Tell Her (2019) and the TV-series Frenzy (2020).
As a film actor he participated in
Pushkin, The Locust, To Live On, The Champions, The Cold Front, Ch. Brothers, Creators,
and
Daylight
, among others.
For the Bolshoi Theatre he directed Gian Carlo Menotti's operas
The Telephone
and
The Medium
production at the Boris Pokrovsky Chamber Stage.
Print