Awards
Diploma -winner at the International Hans Gabor Belvedere Singing Competition (Vienna, 2003).
Prize-winner at the International competition Art of ХХI century (1st prize, Kiev).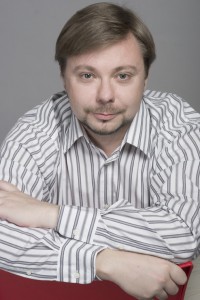 Biography
Born in Moscow. In 2001 graduated from the Moscow State Institute of Culture and Arts (Leonid Zimnenko's class).
He has participated in the master-classes of Giandomenico Bisi, Gloria Borrelli, Verena Keller, Alfredo Mariotti, Dmitry Vdovin.
Since 2001 he has been a Helikon-Opera Company soloist.
Repertoire
Uberto (Pergolesi's La Serva Padrona)
Georges (Gretry's Pierre le Grand)
Don Pasquale (Donizetti's Don Pasquale)
Bartolo (Il barbiere di Siviglia)
Frank (Die Fledermaus)
The High Priest of Bel (Nabucco)
Pistol (Falstaff)
Ramfis (Aida)
Malyuta Skuratov (The Tsar's Bride)
The Storm-Knight (Rimsky-Korsakov's Kashchey the Deathless)
Dodon (Rimsky-Korsakov's The Golden Cockerel)
Varlaam (Boris Godunov)
The Cook (Prokofiev's The Love for Three Oranges)
Thierry (Poulenc's Dialogues des Carmelites)
Schigolch (Berg's Lulu)
Zuniga (Bizet's Carmen)
Luther, Crespel (Offenbach's Les Contes d'Hoffmann)
Mill-hand, Old Convict, Priest (Shostakovich's The Lady Macbeth of Mtsensk)
Zlatogor (The Queen of Spades)
Kolenaty, Stage Technician (Janacek's Vec Macropulos)
Grenvil (Traviata)
Orlik (Mazeppa)
Bartolo (Le Nozze di Figaro)
Magnifico (Rossini's La Cenerentola)
Barone di Trombonok (Rossini's Il viaggio a Reims)
Dulcamara (L'elisir d'amore)
Gasparo (Donizetti's Rita)
Tours
He participated in the Helikon-Opera company tours to England, France, Spain, Italy, Israel, Poland, Bulgaria, Hungary, Estonia.
In 2004 he made his debut at the Vienna's Kammeroper (Gasparo in Rita), where he returned in 2006, singing the part of Narratore (I due timidi by Nino Rota).
In 2005 he appeared at the Theatre San-Carlos in Lisbon, Portugal (Shostakovich's The Nosе).
At the festival Durance Luberon, France, performed the part of Barone di Trombonok (Il Viaggio a Reims, 2007) and the title part in Don Pasquale (2008).
In 2008 he made his debut at Moscow's theatre Novaya Opera in Il Barbiere de Siviglia.

In 2010, he made his Bolshoi Theatre debut as Frank (Die Fledermaus). In 2012, he performed the role of Varlaam (Boris Godunov).

Print