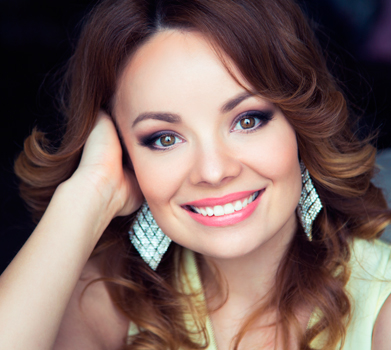 Biography
Kiev-born Ulyana Aleksyuk graduated from the Gliere Music College and then studied in the National Music Academy of Ukraine under Prof. Eugenia Miroshnichenko.

In 2009-11 she was a member of the Young Artists Program of the Bolshoi Theatre in Moscow (the Artistic Director is Dmitry Vdovin), where she took part in master-classes with George Darden, Laura Claycomb, Joan Rodgers, Luba Orfenova among others. She gave her debut at the Bolshoi as First Lady in Mozart's Die Zauberflöte in February 2010. In June 2010 she took part in the Bolshoi Opera tour to Warsaw (Philharmonic Hall) and Dresden (Semperoper) where she sang Brigitta in the concert performance of Iolanta conducted by Vassily Sinaisky. In October 2010 she sang the roles of Princess, Fire and Nightingale in Ravel's L'enfant at les sortilieges with the conductor Benjamin Pionnier as well as the role of Anya in the world premiere of the new opera of Philipp Fenelon Le Cerisaie.

In 2011 she sang in the world premiere of Fabio Vacchi's Lo stesso mare in the production at Teatro Petruzelli in Bari.
The season 2012-2013 included Glyndebourne debut in the role of Zerbinetta in a new Katharina Thoma production of Ariadne auf Naxos with Vladimir Jurowsky, The Tsar's Bride and The Passenger at Lincoln Center Festival and Gilda at Houston Grand Opera, where she was a member of HGO's young artist program.

Her concert repertoire includes Carl Orff's Carmina Burana. She has sung also Beethoven's Ninth Symphony in Oslo (conductor Wolfgang Holtsmaerom) and Mozart's Requiem at the Big Hall of the Conservatory in Moscow (conductor Vladimir Jurowski). In August 2012 she sang at the opening of the Harbin festival (China).
Repertoire
At the Bolshoi:
First Lady (Die Zauberflöte)
Brigitta (Iolanta)
Adele (Die Fledermaus)
Lyudmila (Ruslan and Lyudmila)
Mercedes (Carmen)
Marfa (The Tzar's Bride)
the Fire, the Princess, a Nightingale (L'Enfant et les Sortilêges)
Amina (La Sonnambula)

Also in repertoire:
Zerbinetta (Ariadne auf Naxos)
Gilda (Rigoletto)
Blondchen (Die Entführung aus dem Serail)
Musetta (La Bohème)
Giulietta (I Capuletti e i Montecchi)
Rossignol (Le Rossignol)


Print