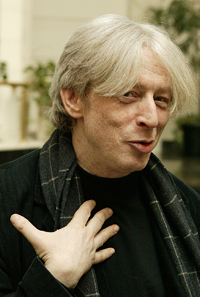 Biography
Was born in Kharkov. He studied composition at the Leningrad Conservatoire with professor Boris Arapov and instrumentation with professor Boris Tishchenko. He wrote his first opera while still a third year undergraduate.

He is one of the most widely performed modern Russian composers.

His works include:

The Gift, a cantata on the poems of Derzhavin (1981, 1997)
Love and Life of a Poet, a song cycle on the poetry of Daniil Kharms and Nikolai Oleinikov (1989)
The Leaden Echo for voice(s) and instrumental ensemble on the poetry of Gerard Manley Hopkins (1990)
Sketches to Sunset for symphony orchestra (1992)
The Rite of Winter 1949, a symphony for choir, soloists and orchestra (1998)
Vocal cycles to poems by Tao Yuanming, Fyodor Tutchev, John Ciardi, Rainer Maria Rilke
Chamber instrumental works: Trois Histories du Chacal (1982), Variations on the Obtaining of a Dwelling (1990), Du Cote de shez Swan (1995), Tracing Astor (1999)
Operas: Poor Liza (1976, 1980), Nobody Wants to Sing or Bravo-bravissimo, a Pioneer Anisimov (1982), Vitamin of the Growth (1985), Tsar Demyan (2001, collective project), The Children of Rosenthal (2004, was commissioned by the Bolshoi Theatre).

Since 1996 he has been collaborating with Gidon Kremer as a composer (Wie der Alte Leiermann...; the chamber version of Sketches to Sunset; Russian Seasons) as well as arranging the works of Astor Piazzolla, among which is the tango-operita Maria de Buenos-Aires and Quatro Estaciones Portenas.

Collaborated with the Alexandrinsky Theatre (St. Petersburg). He created musical accompaniment to Valery Fokin's performances of Inspector General by N.Gogol (2002), The Living Corpse by L. Tolstoi (2006), The Marriage by N.Gogol (2008).

In 2006, Alexei Ratmansky created a ballet to Desyatnikov's Russian Seasons at the New York City Ballet, in 2008, this ballet was premiered at the Bolshoi Theatre.
In 2007, Alexei Ratmansky created a ballet Old Ladies Falling out to music of Desyatnikov's Love and Life of a Poet (performed at the Territory festival in Moscow and at the Bolshoi Theatre's Workshop of New Choreography).

In 2009-10, Leonid Desyatnikov was Music Director of the Bolshoi Theatre.

Desyatnikov wrote the scores for the films Sunset (1990), Lost in Siberia (1991), Contact (1992), Moscow Region Evenings (1994), Hammer and Sickle (1994), Katya Izmailova (1994), Giselle Mania (1995), Prisoner of the Caucasus (1996), All That Is Tender (1996), Moscow (2000), His Wife's Diary (2000), Tycoon (2002), Captive (2008).


He was awarded a Golden Ram prize and the Grand Prix of the IV International Cinema Music festival in Bonn for his score for Moscow (2000, 2002) and the special prize of the Window to Europe Cinema Festival in Vyborg (Russia, 2005).
In 2006, the opera The Children of Rosenthal received the special jury prize of The Golden Mask National Theatre Prize.
In 2012, he received Golden Mask Prize as Best Composer (for the ballet Lost Illusions).
In 2003, he was awarded the State Prize of Russia.
Print