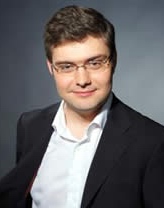 Biography
Born in 1982 into a family of musicians.
Studied at the Gnesin Music School. In 2005, he graduated from the Tchaikovsky Moscow Conservatoire (L. Naumov's class). Than he continued his post-graduate studies there.
He began his active concert life at the age of 14. He has performed in many cities of Russia, Great Britain, Germany, Holland, Italy, Austria, Finland, France, Spain, China, Taiwan, Turkey, Japan, etc.
At 15 he won the scholarship of Vladimir Kraynev charity foundation.

Ivan Rudin is a soloist with the Moscow State Philharmonia.

He has collaborated with such symphony and chamber orchestras as Czech Philharmonic Orchestra, Tchaikovsky Symphony Orchestra, State Symphony Orchestra Novaya Rossiya and others. He has performed with such musicians as Natalia Gutman, Vladimir Kraynev, Eduard Brunner, Ysaye Quartet, Alexander Rudin, and others.

Has appeared at the New Braunschweig Classix Festival (Germany), Prague Autumn International Music Festival (Czechia), Mozarteum (Austria), International Festival Musical Kremlin (Moscow), music festivals dedicated to Oleg Kagan in Kreuth (Germany) and Moscow, music festivals in Turin and Oxford. He has performed at the Big and Small halls of the Moscow Conservatoire, the Big and Small halls of the Moscow International House of Music, Tchaikovsky Concert Hall, Big hall of the Saint Petersburg Philharmonic, Concertgebouw (Amsterdam), Konzerthaus (Vienna), Mirabell Schloss (Salzburg), Slovak Philharmonic (Bratislava).

Since 2001, he has been director of the International Music Festival ArsLonga in Moscow.

He has CD recordings.

Awards

He was awarded a special diploma for his performance at the Heinrich Neuhaus International festival in Moscow (1998).
Prize-winner at the Competition of Chamber Ensembles in Moscow (1st prize, 1999), the International Competition of Pianists in Spain (1st prize, 1999) and at the International Piano Competition Theodor Leschetizky in Taiwan (3rd prize, 2000).
Print