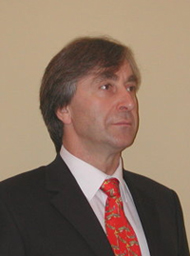 Biography
Born in Georgia. In 1986, he graduated from the vocal faculty of the Tbilisi State Conservatoire.
From 1979-89, he was a soloist with the State Pop Symphony Orchestra of the Georgian State Philharmonic Society.
In 1985, while still a student, he became a soloist with the Tbilisi State Academic Theatre of Opera and Ballet.
Repertoire
At the Tbilisi State Academic Theatre:
Don Basilio (Il Barbiere di Siviglia)
Sparafucile (Rigoletto)
Ferrando (Il Trovatore)
Philip (Don Carlo)
De Silva (Ernani)
Fiesco (Simon Boccanegra)
Banquo (Macbeth)
Zaccaria (Nabucco)
Leporello (Don Giovanni)
Gremin (Eugene Onegin)
King Rene (Iolanta)
The Old Gypsy (Rakhmaninov's Aleko)
The Inquisitor (Prokofiev's The Fiery Angel)
Mendoza (Prokofiev's Betrothal in a Monastery)

In 2009, he made his debut at the Bolshoi Theatre as Sobakin (The Tsar's Bride).

Repertoire at the Bolshoi Theatre includes:
Sobakin (The Tsar's Bride)
Zaccaria (Nabucco)
Zuniga (Carmen)
Timur (Turandot)
Old Convict (The Lady Macbeth of Mtsensk)
Bertrand (The Maid of Orleans)
Count Monterone (Rigoletto)
Alcindoro (La Boheme)
Baron Douphol (La Traviata)
Bertrand (Iolanta)
Mamyrov (The Enchantress)
Geronte de Ravoir (Manon Lescaut)

Also in repertoire:
Mephistopheles (Faust)
Sarastro (Die Zauberfloete)
Procida (I Vespri Siciliani)
Boris Godunov, Pimen (Boris Godunov)
Aleko (Rakhmaninov's Aleko)

In 1990, he took part in the festival, dedicated to Sergei Prokofiev (Essen, Cologne, Duisburg, Gelsenkirchen), performing parts in The Fiery Angel, Betrothal in a Monastery and War and Peace.

From 1982-92, he taught at the Tbilisi State Conservatory. From 1985-2004, — at the Tbilisi Music College.
Print