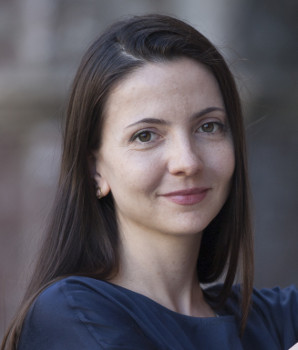 Biography
She graduated from the Moscow
Architectural Institute and the course of visual art at the IUAV Institute (Venice), worked in the architectural studios of Russia and Italy.
In 2015, she founded the PLANET 9 bureau, focused on creating projects in the field of culture — from museums and temporary exhibitions to working with public spaces and set design.
Designed and implemented following projects: the exhibition «V.D.N.H.: urban phenomenon» at the Russian pavilion in Venice (2016), the Andrei Voznesensky Cultural Center in Moscow (2018), observation deck and the Museum of the Moscow International Business Center on the 56th floor of the Empire Tower (2017), a retrospective exhibition of works by Arkhip Kuindzhi at the State Tretyakov Gallery.
She served as art director of the performances 19.17. The Bright Way at the Moscow Art Theater together with Sergei Choban (directed by Alexander Molochnikov), laboratory performance Glory at the Moscow Art Theater (directed by Mikhail Rakhlin), opera The Magic Flute together with Sergei Kuznetsov (directed by Ilya Ilyin).
Print