Awards
Diploma winner of the 2nd Open All-Russian Ilya Musin Conducting Competition.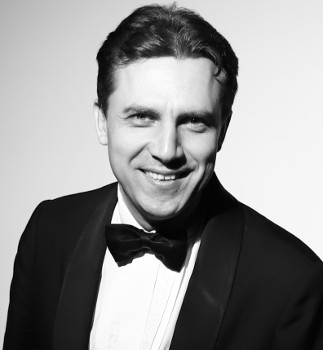 Biography
Graduated from the Moscow Tchaikovsky Conservatoire
as a violinist in 2003 under professor Vladislav Igolinsky and as an opera and symphonic conductor in 2014 under professor Vladimir Ponkin.

In 2003 joined the Bolshoi Theatre orchestra as a violinist.

As an assistant to music director worked on operatic productions with Maestros Rani Calderon at Opéra national de Lorraine, France (The Golden Cockerel by Nikolai Rimsky-Korsakov, directed by Laurent Pelly) and Michail Jurowski at the Bolshoi Theatre (Queen of Spades by Pyotr Tchaikovsky, directed by Lev Dodin).
He was music director for one act ballet productions Amadeus, The Girl of the Matchsticks and The Little Prince (V.I.V.A.T. theatre, choreography by Ivan Vasiliev).
He is artistic director of the Progressive Classic Orchestra.
Print