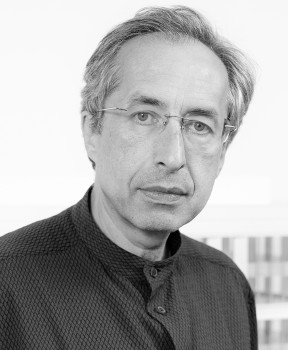 Biography
Sergei Tchoban is a Russian and German architect working in various cities in Europe and the Russian Federation.
He is a member of the Association of German Architects (BDA), the Union of Architects of Russia and the Union of Artists of Russia. Graduated from the Architecture Faculty at the Repin Institute of Painting, Sculpture, and Architecture in St. Petersburg. Founder of the Tchoban Foundation Museum for Architectural Drawing in Berlin.
Head of architecture firms SPEECH (Russia) and Tchoban Voss Architekten (Germany). Has designed more than 40 buildings and won numerous architecture prizes.
In 2009 he founded the Tchoban Foundation – Museum for Architectural Drawing.
Since 2011 – member of the town-planning Council of the SKOLKOVO Foundation.
Since 2012 Sergei Tchoban is a member of the architectural advisory board of the City of Moscow.
Since 2014 – honorary member of the Russian Academy of Arts.
In 2018 Sergei Tchoban won European Prize for Architecture.
In 2019 he designed two one-act operas Telephone and Medium by J.C. Menotti (directed by Alexander Molochnikov) at the Chamber Stage of the Bolshoi Theatre, together with scenographer Agniya Sterligova.
Print