Nearest performances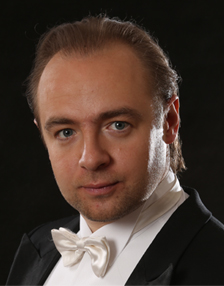 Biography
Born in Moscow to the family of conductor Vladimir Bogorad. Graduated from Moscow State Tchaikovsky Conservatory with distinction, in 2001 in clarinet (Professor Vladimir Sokolov), in 2009 in conducting of symphony and opera (Professor Gennady Rozhdestvensky). Since 2012 has been a conductor at the Bolshoi Theatre.

Performed with the leading domestic orchestras: Russian National Orchestra, National Philharmonic of Russia, Saint Petersburg Philharmonic Orchestra, The Moscow Chamber Orchestra, Tatar State Symphony Orchestra. Conducted the performances of Yakut, Perm, Mikhailovsky, Novosibirsk, Nizhegorodskiy theatres of opera and ballet.

In 2011-12, was an assistant to Vladimir Jurowski, the leader of the State Academic Symphony Orchestra of Russia (Svetlanov Symphony Orchestra). Regularly collaborates as a guest conductor with this orchestra as well as with Prague National (The Czech Republic), National Theatre in Belgrade, Teatro San Carlo (Naples) and also the national Symphonic Orchestras of Lithuania, Ukraine, Croatia and Norway.

As a conductor, he participated in the realisation of the following productions at the Bolshoi Theatre: Moidodyr by E. Podgaits (the world premiere of the ballet, 2012), L'enfant et les sortilèges by M. Ravel (2013), The Young Person's Guide to the Orchestra by B. Britten (2013), Marco Spada to the music by D.-F.-E. Auber (2013).

Conducted the premieres of the ballets Giselle by A. Adan (2017), La naïade et le pêcheur by C. Pugni, Don Quixote by L. Minkus (2019, all of them at the Ural Opera and Ballet), Le Corsaire by A. Adan (2014), Romeo and Juliet by S. Prokofiev (2016, both at Teatro San Carlo, Naples).

His opera repertoire includes Don Giovanni by W.A. Mozart, Ruslan and Ludmila by M. Glinka, Faust C. Gounod, Tosca and Madama Butterfly by G. Puccini, Iolanta and Eugene Onegin by P. Tchaikovsky, The Tsar's bride and May Night by N. Rimsky-Korsakov, Wozzeck by A. Berg, The Fiery Angel by S. Prokofiev, L'enfant et les sortilèges by M. Ravel, Carmen by G. Bizet and many ballets as well.
Tours
2010: II award of the International Stefan Turchak Conducting Competition (Kiev)
2011: I award of the International Competition of Young Conductors Lovro von Matačić (Zagreb)
2018,2020: a nominee of The Golden Mask, Russian National Theatre Award


Print