Nearest performances
Awards
Diploma-winner at the Moniuszko International Competition (Warsaw, 2001), the Rimsky-Korsakov Competition (St Petersburg, 2002) and the Lisitsian Competition (Vladikavkaz, 2003).
Prize-winner at the International Yelena Obraztsova Competition (Moscow, 2006).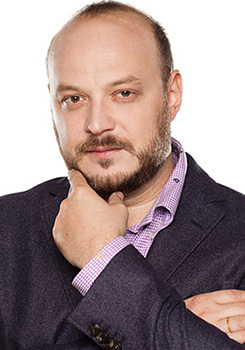 Biography
Born in the city of Molodechno, Minsk Region (Belarus).
In 1996, he completed his studies at the Molodechno Music College. In 1997 he enrolled at the Belorussian Academy of Music. He also studied at the Saint-Petersburg State Rimsky Korsakov Conservatoire.
Has studied in Milan since October 2004 (under Professor R. Metre).
He has taken part in master classes given by Yelena Obraztsova, Dmitri Hvorostovsky, Vladimir Atlantov, Dennis O'Neal and Renata Scotto.

From 2000-04, he was a soloist with the Mariinsky Theatre Academy of Young Singers.
From 2004-15, he was a soloist with the Mariinsky Theatre where he appeared in the following roles:

Pastor (Khovanshchina)
Title role (Eugene Onegin)
Ibn-Hakia (Iolanta)
Kovalyov (Shostakovich's The Nose)
Rodrigo di Posa (Don Carlo)
Title role (Gianni Schicchi)
Aeneas (Dido and Aeneas)
Prince Yeletsky (The Queen of Spades)
Afron (The Golden Cockerel)
Ferdinand, Father Chartreuse (Prokofiev's Betrothal in the Monastery)
Silvio (Pagliacci)
The Duke (Raсhmaninov's The Miserly Knight)
The Village-Head (Rimsky-Korsakov's Christmas Eve)
Pantalone (Prokofiev's The Love for Three Oranges)
Alyosha (Smelkov's The Brothers Karamazov)
Georges Germont (La Traviata)
Prince Yamadori, Sharpless (Madama Butterfly)

His repertoire also includes:
Andrei Bolkonsky (Prokofiev's War and Peace)
Lord Henry Ashton (Lucia di Lammermoor)
Ford (Falstaff)
the baritone part in Orff's Carmina Burana

He has appeared in concert programs with Larisa Gergieva in Paris, London, Boston, Bombay, Rome, Helsinki.
Has toured with the Mariynsky Opera Company to the USA, Japan, England, Finland, France.
In 2007, he sang two concerts with the Los Angeles Philharmonic, conducted by Esa Pekka Salonen.
In 2009, he appeared as Yeletsky at Teatro Regio di Torino.

In 2006 he made his Bolshoi Theatre debut as Eugene Onegin. In 2012 he performed the role of Prince Nikita Kurlyatev (The Enchantress). In 2014 he sang Rodrigo (Don Carlo), in 2018 — Renato (Un ballo in maschera).

His international engagements began with Miller in Luisa Miller at the Malmö Opera (2012), followed by Renato in Un ballo in maschera at the Stockholm Royal Opera.
In 2014, he made his debut as Posa (Don Carlo) at the Baden-Baden Festival, followed by Macbeth in Basel in 2015. In addition, he performed alongside Anna Netrebko in Iolanta as part of a European tour.

During 2015/16 Sulimsky performed Macbeth at the Ravenna Festival, and made his debut at the Edinburgh Festival as Alberich in Das Rheingold.

During 2016/17 he debuted as Tomski in a new production of Pique Dame at the Stuttgart Opera and also sang Don Carlo (La forza del destino) in Basel. After making his debut as Renato in Un ballo in maschera last season, he now returns to Wiesbaden to sing the title role in the new production of Rigoletto.
Highlights of his 2019/2020 season included his debut at the Bayerische Staatsoper as Il conte di Luna. He also returns to Frankfurt for Fedora in concert (conductor Sebastian Weigle).
In 2021 he debuted at Glyndebourne festival as Miller (Luisa Miller) and received great critical acclaim.
Print
All in group
Valery Alexeyev
Tommaso Barea
Oleg Fedonenko
Rodion Pogossov
Vladislav Sulimsky