Awards
2017 — Prize-winner at the 5th Pavel Lisitsian International Vocal Competition (1st prize in chamber category, special prize "For Artistry and Virtuosity", Vladikavkaz). 2017 — Diploma recipient at the 11th Elena Obraztsova International Competition of Young Opera Singers (special prize of the Elena Obraztsova Foundation, St Petersburg). 2017 — Diploma recipient at the 6th Georgy Sviridov International Chamber Singing Competition (diploma for the best performance of Sviridov's romance song to the lyrics by Mikhail Lermontov, Kursk).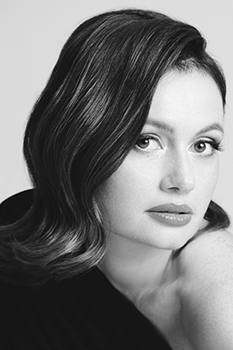 Biography
Born in Yuzhno-Sakhalinsk. From 2005 to 2007 she was a violinist with the Yuzhno-Sakhalinsk Chamber Orchestra.

From 2013 to 2015 she studied at the Gnesin Musical College (class of Aida Gainanova). In 2017 she received her master's degree at the Gnesin Russian Academy of Music (class of Elena Zelenskaya).

From 2015 to 2018 Tsvetana was a soloist of the Astrakhan State Theatre of Opera and Ballet.

Since 2016 she has been a soloist of the Mariinsky Academy of Young Opera Singers.

Appears at the Grand and Small halls of the St Petersburg Philharmonia.
Repertoire
At the Astrakhan State Theatre of Opera and Ballet:
Olga (Eugene Onegin)
Polina (The Queen of Spades)
Laura (Iolanta)
Flora Bervoix (La traviata)
the Page (The Legend of the Invisible City of Kitezh and the Maiden Fevroniya)
Marina Mnishek (Boris Godunov)
Konchakovna (Prince Igor)
Lyubasha, Dunyasha (The Tsar's Bride)

At the Mariinsky Theatre:
Nicoletta (The Love for Three Oranges)
Isabella (L'italiana in Algeri)
Angelina (La Cenerentola)
Third Lady (Die Zauberflöte)
Dorothée (Cendrillon, concert performance)
Urbain (Les Huguenots, concert performance)

In productions for children she sang the Queen (Kolmanovsky's Snow White), White Fairy and Red Fairy (Khanedanyan's Adalmina's Pearl), the House-Spirit (Posin's Soldier's Tales), Musya (Banevich's Murych the Cat), Nopperapon (Sagdiev's The Adventures of Kintaro), the Little Aspen-Tree (Sagdiev's The Turnip).

Print
All in group
Ekaterina Arnu
Maria Barakova
Tsvetana Omeltchuk