Nearest performances
Awards
2017 — special prize at the Elena Obraztsova International Singing Competition (St Petersburg).
2019 — 1st prize at the Siemens Opera Contest (Paris).
2021 — special prize at the International Singing Contest Francisco Viñas (Barselona).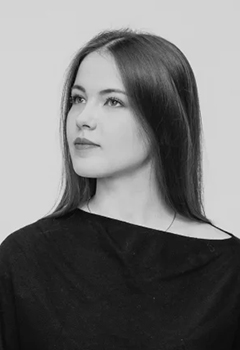 Biography
Born in Kharp (Yamal, Russia), Liubov Medvedeva graduated from the Russian Institute of Theatre Art — GITIS (faculty of musical theatre, studios of Alexander Titel and Igor Yasulovich), 2019. She also attended courses at the Moscow State Tchaikovsky Conservatory in 2018.

From 2018 to 2020 she was a member of the Atelier Lyrique at the Paris Opéra, where she took part in several concerts. In 2017 she sang the role of Adele (Die Fledermaus), in 2020 she made her Palais Garnier debut in 2020 as a Shepherdess in Ravel's L'Enfant et les sortilèges.

2020 - 2022 — an artist of the Opera Studio of the Berlin State Opera, debuted as Barbarina (Le nozze di Figaro) under Daniel Barenboim.
In 2021 Liubov was also a member of the Salzburg Festival Young Singers Project.

In 2023 she makes her Bolshoi Theatre debut as Barbarina (Le nozze di Figaro).

Repertoire
Echo (Ariadne auf Naxos) — Maggio Musicale Fiorentino, Berlin State Opera
Papagena (Die Zauberflöte) — Berlin State Opera
Barbarina (Le nozze di Figaro) — Berlin State Opera
Shepherdess (Rameau's Hippolytus and Aricia) — Berlin State Opera
Amore (Gluck's Orphée et Eurydice) — Berlin State Opera
Shepherdess (L'Enfant et les sortilèges) — Paris National Opéra
Adele (Die Fledermaus) — Paris National Opéra
Sophie (Werther) — Paris National Opera Atelier Lyrique

In concert: Te Deum by Carl Heinrich Graun, Four Sacred Pieces by Verdi.

Print
All in group
Liubov Aksenova (Medvedeva)
Anastasia Barun
Olga Maslova
Elena Mikhailenko