Awards
1999 – 1st prize at the VII All-Russian Vocal Competition Bella voce. 2002 – 4th prize at the Elena Obraztsova Chamber Music Competition. 2006 – Diploma at the Elena Obraztsova International Competition of Young Opera Singers. 2009 – Diploma at the Concours International d'Opéra de Marseille.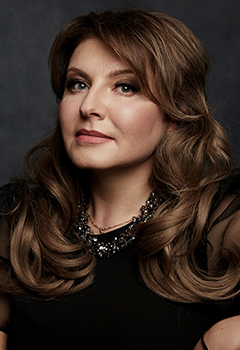 Biography
Graduated from the Moscow State Conservatoire. Studied at the Accademia Rossiniana in Pesaro. Appeared at the Rossini Festival.

Since 2005 she has been a soloist of Stanislavsky and Nemirovich-Danchenko Music Theatre.
Repertoire
At the Stanislavsky and Nemirovich-Danchenko Music Theatre:
Hermia (Britten' Midsummer Night's Dream)
Rosina, Berta (Il barbiere di Siviglia)
Isabella (L'italiana in Algeri)
Dorabella (Cosi fan tutte)
Olga, Filippyevna (Eugene Onegin)
Alisa (Lucia di Lammermoor)
Suzuki (Madama Butterfly)
Mayor's sister-in-law (May Night)
Tamara's Nurse (The Demon)
Mercedes (Carmen)
Princess Marya (War and Peace)
Linetta (The Love for Three Oranges)
Woman (Zhurbin's Love's Metamorphosis)
Mayor's wife (Jenůfa)
Vlasta (Weinberg's The Passenger)
The Weaver (The Tale of Tsar Saltan)
Deborah Crusoé (Robinson Crusoé)
Governess, Polina (The Queen of Spades)

Also in repertoire:
Marthe (Faust)
Lyubava (Sadko)
Charlotte (Werther)
Dunyasha, Lyubasha (The Tsar's Bride)

Print
All in group
Ekaterina Arnu
Maria Barakova
Veronika Vyatkina