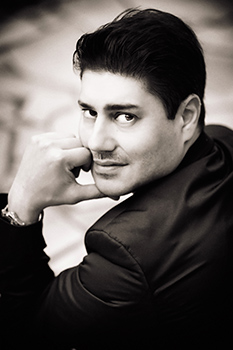 Biography
Dovlet Nurgeldiyev studied singing in Turkmenistan before continuing his studies in The Netherlands at Tilburg and at the Royal Conservatory in The Hague where was awarded his master's degree. In 2009 he was awarded a prize at the Stella Maris Singing Competition, which included a recording with Deutsche Grammophon.

Joined the International Opera Studio of the Hamburg State Opera in 2008 where he made an immediate impact with his first night debut as Fenton in Falstaff. In 2010 he became an ensemble member of the same house and has been singing major roles there ever since.

He has performed at the Bavarian State Opera, Berlin State Opera, Frankfurt Opera, Gran Teatre del Liceu, Opéra de Montpellier, Opéra National de Lyon, Opéra Royal de Versailles, Opéra de Rouen Normandie, Opéra de Lausanne, the Hungarian State Opera, Polish National Opera, Santa Fe Opera.

He has performed with such orchestras as the Orchestre National de Montpellier, the Prague Radio Symphony Orchestra, the MDR Orchestra, and the Győr Philharmonic Orchestra.

Dovlet has worked with conductors including Marco Armiliato, Kent Nagano, Jean Christophe Spinosi, Ivor Bolton, Bertrand de Billy, Asher Fisch, Simone Young, Constantin Trinks, Lothar Zagrosek, Christopher Moulds and with stage directors including Willy Decker, David Alden, David Pouteney, Peter Konwitschny, Jean-Paul Scarpitta, Harry Kupfer, Andreas Homoki, Steven Pimlott and Doris Dörrie.
Repertoire
At the Hamburg State Opera:
Alfred (Die Feldermaus)
Lensky (Eugene Onegin)
Belmonte (Die Entführung aud dem Serail)
Ferrando (Così fan tutte)
Don Ottavio (Don Giovanni)
Macduff (Macbeth)
Fenton (Falstaff)
Tamino (Die Zauberflöte)
Telemaco (Il ritorno d'Ulisse in patria)
Alfredo (La Traviata)
Walther von der Vogelweide (Tannhäuser)

Also in repertoire:
Nemorino (L'elisir d'amore) – Opéra de Lausanne
Alfred (Die Feldermaus) – Opéra National de Lyon
Lensky (Eugene Onegin) – Santa Fe Opera, Frankfurt Opera, Opéra de Montpellier
Don Ottavio (Don Giovanni) – Berlin State Opera, Opéra de Montpellier, Opéra Royal de Versailles, Hungarian State Opera, Polish National Opera
Steva (Jenufa) – Opéra de Rouen Normandie
Tito (La clemenza di Tito) – Gran Teatre del Liceu
Alfredo (La Traviata) – Bavarian State Opera
Belfiore (La finta giardinera) – Berlin State Opera

Concert repertoire includes Mozart 's Mass in C minor, Dvořák's Stabat Mater, Verdi's Requiem.

Print
All in group
Sergio Escobar
Vittorio Grigolo
Maxim Mironov
Dovlet Nurgeldiyev
Gaston Rivero
Giovanni Sala