Awards
He is prize-winner at the following competitions: 5th international competition of young performers (Tokyo, 1st prize, 1997); 5th international competition of young performers (Krakow, diploma, 1997); 7th international Mozart competition (Salzburg, special prize, 1999); Giuseppe Verdi international competition (Busseto, diploma, 1999); 2nd Yelena Obraztsova international competition for young opera singers (Saint-Petersburg, diploma and special prize, 2001); the Sviridov international competition (Kursk, 1st prize, 2004); 2nd prize and special award at the 21st International Glinka Competition (Chelyabinsk, 2005).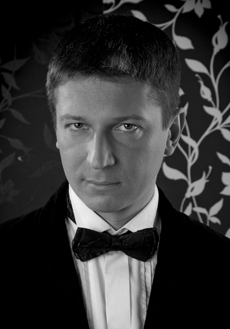 Biography
Born in Leningrad. Having completed his studies (choir conducting) at the Glinka Choral College, he entered the vocal department of the Saint-Petersburg Rimsky-Korsakov State Conservatoire (Valery Lebedev's class). He completed his studies at the Conservatoire in 1999 and in 2002 — he completed a post graduate course there (Professor Nikolai Okhotnikov's class).

At the Saint-Petersburg Conservatoire Theatre he sang the following roles: Mephistopheles (Faust), King Rene (Iolanta), Gremin (Eugene Onegin), Sobakin (The Tsar's Bride), Title role (Rakhmaninov's Aleko), Don Bartolo (Le Nozze di Figaro), Don Basilio (Il Barbiere di Siviglia), Inigo (Ravel's L'Heure Espagnole), Mendoza (Prokofiev's Betrothal in a Monastery).

In 1993, he joined the State Academic Choral Capella of Saint-Petersburg as soloist. With the Capella he has sung the solo parts in the Requiems of Verdi and Mozart, Beethoven's Symphony No.9, Johann-Sebastian Bach's Mass in B Minor, Rachmaninov's cantata The Bells, Stravinsky's Les Noces and other works.
Repertoire
At the Bolshoi Theatre, where he made his debut in 2003, he appears in the following roles:
Tom (Un Ballo in Maschera)
Bertrand (Iolanta)
Benoit (La Boheme)
Angelotti (Tosca)
Varsonofiev (Mussorgsky's Khovanshchina)
Pistola (Falstaff)
Rosenthal (Desyatnikov's The Children of Rosenthal)
Vocal Solo (ballet Leah to music by Leonard Bernstein, Alexei Ratmansky creation)
The Doorkeeper (Die Zauberfloete)
Rangoni (Boris Godunov)
Prince Yuri Vsevolodovich (Rimsky-Korsakov's The Legend of the Invisible City of Kitezh and of the Maiden Fevronia)
Doctor (Wozzeck)
The Cook (The Love for Three Oranges)
Timur (Turandot)
Frost (The Snow Maiden)
Faust (The Fiery Angel)
Leporello (Don Giovanni)
Sobakin (The Tsar's Bride)
Sarastro (Die Zauberfloete)
Pimen (Boris Godunov)
Doctor Grenvil (La Traviata)
Alessio, Count Rodolpho (La Sonnambula)
Igor Svyatoslavich (Prince Igor)
The Grand Inquisitor (Don Carlo)
Thibaut d'Arc (The Maid of Orleans)
Colline (La Boheme)
Zuniga (Carmen)
King Rene (Iolanta)
Leporello (The Stone Guest)
Rogozhin (The Idiot)
Figaro (Le nozze di Figaro)
Don Prudenzio (Il Viaggio a Reims)
Tom (Un mallo in maschera)
Gremin (Eugene Onegin)
Luka Zinovyich (Rimsky-Korsakov's Sadko)

Tours
He has appeared in the USA, Holland, Belgium, Switzerland, Germany, France, Spain, Portugal, Poland, Slovenia, Horvatia, Yugoslavia, Greece, South Korea, Japan.
In 2000, he made his debut at New York's Carnegie Hall and the Lincoln Centre, and in 2003 — at the Concertgebouw (Amsterdam).

In 2019 he appeared with the Mikhailovsky Theatre in a new production of Aida (Pharaon).

Has CD recordings.

Print
All in group
Felix Kudryavtsev
Pyotr Migunov
Stanislav Shvets
Hayk Tigranyan
Alexander Vinogradov