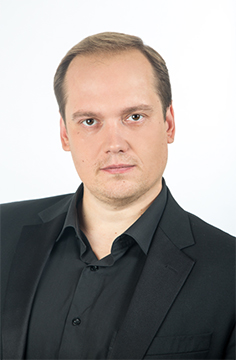 Biography
Graduated from the Lomonosov Moscow State University and the Gnessins Russian Academy of Music (Yurasova's class).

He has performed at the Rome Opera, the Avery Fisher Hall in New York, the Opera City Concert Hall in Tokyo, the Baden-Baden Theater, and the Victoria Concert Hall in Singapore.

Since 2013, he has been a soloist of the Kolobov Novaya Opera Theatre of Moscow.
Repertoire
At the Novaya Opera:
Grigory Gryaznoy (The Tsar's Bride)
Prince Igor (Prince Igor)
Rigoletto (Rigoletto)
Count Capulet, Grégorio (Romeo et Juliette)
Schaunard (La bohème)
Enrico Ashton (Lucia di Lammermoor)
Amonasro (Aida, concert performance)
Il Vecchio (Leoncavallo's Zingari, concert performance)


Print
All in group
Valery Alexeyev
Tommaso Barea
Andrey Borisenko
Oleg Fedonenko
Rodion Pogossov