Awards
Prize-winner at the International Rimsky-Korsakov Young Opera Singers' Competition in St Petersburg (1st prize, 2000).
Prize-winner at the International Moniuszko Competition in Warsaw (Grand prix, 2004).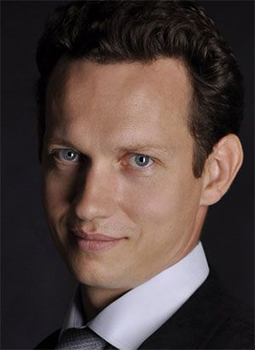 Biography
Graduated from the Belarusian State Academy of Music in 1999 (class of Professor A. Generalov). He was a soloist with the National Academic Bolshoi Opera and Ballet Theatre of Belarus from 1997–99, where he made his debut as Eugene Onegin. Soloist with the Mariinsky Academy of Young Singers from 1999–2004.
Joined the Mariinsky Opera Company in 2005.
Repertoire
Shchelkalov (Boris Godunov)
Eugene Onegin (Eugene Onegin)
Robert (Iolanta)
Yeletsky (The Queen of Spades)
Venetian Merchant (Sadko)
Mizgir (The Snow Maiden)
Ivan-Korolevich (Kashchey the Immortal)
Don Ferdinand (Betrothal in a Monastery)
Andrei Bolkonsky (War and Peace)
Tigellin (The Mystery of Paul the Apostle)
Chichikov (Dead Souls)
Humbert Humbert (Lolita)
Alyosha (The Brothers Karamazov)
Prolyotov (The Lawsuit)
Alexander I, Nicholas I (The Lefthander)
Chancellor (A Christmas Tale)
Belcore (L'elisir d'amore)
Enrico Ashton (Lucia di Lammermoor)
Figaro (Il barbiere di Siviglia)
Don Alvaro (Il viaggio a Reims)
Zurga (Les Pêcheurs de perles)
Escamillo (Carmen)
Giorgio Germont (La traviata)
Monforte (I vespri siciliani)
Rodrigo (Don Carlo)
Ford (Falstaff)
Silvio (I pagliacci)
Marcello (La bohème)
Jack Rance (La fanciulla del West)
Ramiro (L´Heure espagnole)
Valentin (Faust)
Demetrius (A Midsummer Night's Dream)
Pelléas (Pelléas et Mélisande)
Tarquinius (The Rape of Lucretia)
Count Almaviva (Le nozze di Figaro)
the baritone parts in Orff's Carmina Burana, Mahler's Eighth Symphony and Szymanovski Stabat Mater, Jesus in Bach's Matthäus-Passion
Tours
At the Washington National Opera he has performed the roles of Marcello (La Bohème) and Dunois (The Maid of Orleans). At the Welsh National Opera he has performed the roles of Onegin (Eugene Onegin) and Robert (Iolanta). He has appeared as Silvio (I pagliacci) and Enrico (Lucia di Lammermoor) at the Wiener Staatsoper and again as Silvio (I pagliacci) at the Croatian National Theatre in Rijeka.
At the Aix-en-Provence Opera Festival he performed the role of Onegin (Eugene Onegin). He appeared as Amonasro (Aida) at the International Opera Festival in Savonlinna. He has performed as Eugene (Eugene Onegin) and Figaro (Il barbiere di Siviglia) at the Fyodor Chaliapin Opera Festival in Kazan.
Moreover, he has appeared as Dunois (The Maid of Orleans) at Carnegie Hall and as Robert (Iolanta) at the Royal Albert Hall.


Print
All in group
Valery Alexeyev
Tommaso Barea
Oleg Fedonenko
Vladimir Moroz
Rodion Pogossov