Awards
1997 – International Maria Callas Grand Prix in Athens, Greece (1st prize)
1997 – International Francisco Vinas Vocal Contest in Barcelona, Spain (2nd prize)
1996 – International J.Gayarre contest in Pamplona, Spain (3rd prize)
1999 – Honoured Artist of Ukraine
2000 – International Buhl-Buhl contest in Baku, Azerbaijan (2nd prize)
2001 – Georgy Sviridov Vocal Competition in Kursk (1st prize)
2008 – People's Artist of Ukraine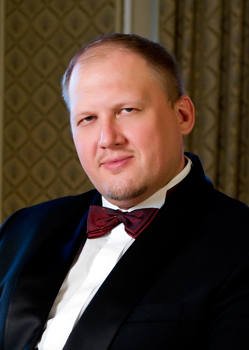 Biography
Born in Kiev. In 1993, he graduated from the Kiev Tchaikovsky Conservatoire (Galina Sukhorukova's class).
Since 1992, he has been soloist with the National Opera of the Ukraine.
In 2002, he made his Bolshoi Theatre debut as Dosifei (Mussorgsky's Khovanshchina).

He often tours in Spain, Italy, Switzerland, Hungary, the Netherlands, Denmark, France, Germany, Czech Republic, Serbia, Poland, Slovenia, Brazil, South Korea and elsewhere.

Among his most important appearances are: Grand Inquisitor (Don Carlo, Palma-de-Mallorca, 1997), Galitsky (Prince Igor, Winterthur, 1998) Zaccaria (Nabucco, Avignon, 2000 and Prague State Opera, 2009), Dosifey (Khovanshchina, Warsaw, 2002), Raimondo (Lucia di Lammermoor, St. Petersburg, 2003), Pimen (Boris Godunov, Royal Opera, London, 2006 and Savonlinna Opera Festival, 2015), Boris Godunov (Teatro Verdi di Trieste), Ramfis (Aida, Malmö Opera, 2015), Prince Gremin (Eugen Onegin, Glyndebourne Festival, 2014, Malmö Opera, 2015), Mephistofel (Faust, Budapest Opera, 2016).

He often appears at major international music festivals, such as Glyndebourne Festival, Munich Opera Festival, KlangBogen Festival, Ljubljana Opera Festival, Savonlinna as well as Dalhalla festivals. His most recent performances include: Boris Godunov at the Teatro Verdi di Trieste (2020), Hunding (Die Walküre) at the Frankfurt Oper, Fafner (Rheingold, Siegfried) at the Grand Theatre de Geneve, Hagen (Götterdämmerung) at the Opera de Oviedo and Opernhaus Kiel (2019), Nilakantha (Lakme) at the Malmö Opera, Dalhalla festival and Copenhagen, Crespel (Les contes d'Hoffmann) at the Copenhagen Royal Opera (2017).

He also gives many performances in the cantata-oratorio and chamber music repertoire. They include: Verdi's Requiem (Madrid, Barcelona, Santander, 1997; Amsterdam, the Hague, Utrecht, Rotterdam, 2002); Beethoven's Symphony No. 9 (Strasbourg, Rio de Janeiro, San Paolo, 1999); Shostakovich's Symphony No. 13 (Big Hall of the Moscow Conservatoire, 2001; Warsaw Philharmonia, 2003; Beethovenhalle, Bonn, 2005), Moussorgsky Songs and dances of death (Helsingborg, 2018; Belgrad, 2016; Koblenz, 2008).

He regularly collaborates with directors Zubin Mehta, Leif Segerstam, Sebastian Weigle, Michael Güttler, Giuliano Carella, Gennady Rozhdestvensky, Vladimir Fedoseyev, Valeri Gergiev, Mikhail Jurowsky Dmytry Jurowsky, and singers Jonas Kaufmann, Rene Pape, Anja Harteros, Ludovic Tezier, Ekaterina Gubanova, Matti Salminen, Ekaterina Semenchuk, Lyudmila Monastyrska and others.
Repertoire
Among his other roles for the Bolshoi Theatre are:
Ruslan (Ruslan and Lyudmila)
Kochubey (Mazeppa)
Faust (The Fiery Angel)
Priest (The Lady Macbeth of Mtsensk)
King Rene (Iolanta)
Boris Godunov, Pimen (Boris Godunov)
Boris Timofeyevich (Katerina Izmailova)

Also in repertoire:
Don Basilio (Il Barbiere di Siviglia)
Raimondo (Lucia di Lammermoor)
Oroveso (Norma)
Philip II, Grand Inquisitor (Don Carlo)
Zaccaria (Nabucco)
Monterone (Rigoletto)
Ramfis, King of Egypt (Aida)
Banquo (Macbeth)
Il Conte di Walter (Luisa Miller)
Uncle Bonze (Madama Butterfly)
Escamillo (Carmen)
Mephistopheles (Faust)
Commendatore (Don Giovanni)
Sarastro (Die Zauberfloete)
Wotan, Hunding (Die Walkure)
Hagen (Götterdämmerung)
Fafner (Rheingold, Siegfried)
Gurnemanz (Parsifal)
Gremin (Eugene Onegin)
Ibn-Hakia (Iolanta)
Sobakin (Rimsky-Korsakov's The Tsar's Bride)
Salieri (Rimsky-Korsakov's Mozart and Salieri)
Varangian Guest (Rimsky-Korsakov's Sadko)
Pimen, Rangoni (Boris Godunov)
Cherevik (Mussorgsky's Sorochintsy Fair)
Galitsky (Borodin's Prince Igor)
Boris Timofeyevich (Shostakovich's The Lady Macbeth of Mtsensk)
Kutuzov (Prokofiev's War and Peace)
Celio (Prokofiev's The Love for Three Oranges)
Taras Bulba (Lysenko's Taras Bulba)

His chamber music repertoire includes works by Tchaikovsky, Rakhmaninov, Glinka, Mussorgsky, Borodin, Dargomyzhsky, Sviridov, Schubert, Schumann, Massenet, Brahms, Lysenko.
Discography
"Oh Lord, by your power…" , orthodox sacred music, conductor Y.Tkach, 2013, CD
Giuseppe Verdi's Luisa Miller Malmö Opera Orchestra, Michael Güttler, 2012, DVD
"Pearls of romances" with A.Titovych, piano, 2009, CD
Masterpieces of Russian music, 2006, conductor A.Vedernikov, CD
Shostakovich's Symphony No. 14, conductor Roman Kofman, 2006, CD
Shostakovich's Symphony No. 13, conductor Roman Kofman, 2005, CD
M.Glinka's Russlan and Lyudmila (Russlan), 2003, CD


Print
All in group
Felix Kudryavtsev
Taras Shtonda
Stanislav Shvets
Hayk Tigranyan
Alexander Vinogradov